Lenovo's YOGA 710 Arrives In India
The device comes paired with an ultra-slim YOGA Mouse which doubles up as a remote control and is priced at INR 85,490/-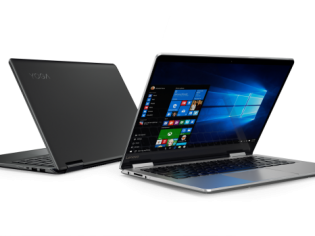 Lenovo, the world's largest PC maker and a significant player in tablets and smartphones, announced the launch of its latest convertible laptop in India, the YOGA 710. Powered by a 6th Gen Intel Core i7 processor, the new 14-inch YOGA 710 boosts high performance and long battery life so users can leave their cords at home for longer. It is the perfect fit for travelers and mobile multi-taskers who are productive on the road. The YOGA 710 comes with one of the most unique accessories – the wireless YOGA Mouse which can also double up as a remote control for an on-screen presentation.
Slim and light, YOGA 710 is a portable convertible laptop that enables users to multitask seamlessly between video conferencing, emailing, editing photos and more on-the-go. The most promising feature of the Yoga 710 is its innovative antenna that physically integrates into the Yoga hinge, covering a greater surface area, and making signal strength 20 percent better and more stable, avoiding the problem of unreliable Wi-Fi connections among mobile users.
With a Next-Generation NVIDIA discrete graphics card, YOGA 710 provides richer visuals and a faster operating experience, making the device perfect for gaming and multimedia. The addition of Dolby Audio Premium energizes entertainment with rich, powerful sound that dynamically adjusts audio to deliver home theater quality in a virtual surround sound experience. It also has an up to 256GB solid state drive (SSD) for fast access to movies, pictures, and files without having to use an external hard drive. With up to 8 hours of battery, users can enjoy a movie marathon and still have charge to squeeze in a couple of hours of work. The FHD (1920x1080) display makes everything from movies and photos to games and video chat look sharper.
The ultra-slim YOGA mouse is a multifunctional device that's wireless and can be converted into a remote control for media player, presentations and other applications. The mouse supports both Bluetooth 4.0 and 2.4GHz wireless connection for maximum flexibility and computing on-the-go. It includes a rechargeable battery which is integrated and sealed inside, avoiding the need to buy spare batteries. The mouse also consists of an adaptive touch display when in flat mode provides additional control for presentation and entertainment.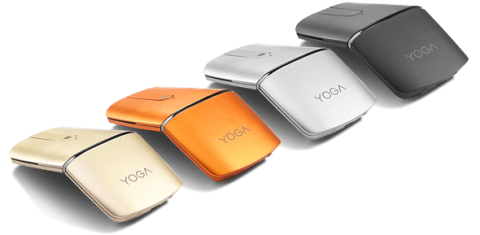 Commenting on the launch, Bhaskar Choudhuri, Director, Marketing, Lenovo India said, "Today, consumers expect their gadgets to add value to their active, on-the-go lifestyles. YOGA 710 is a laptop that caters to these new-gen mobile workers and travel enthusiasts who need work, recreation, and social connectivity on-the-go, and with minimal connectivity hassles. YOGA 710 comes with just the right specs and form factor that enable this. The flexible YOGA mouse adds on to the style quotient of the device. We're excited to see how Indian consumers respond to this distinctive combination of style and specification."
YOGA 710 Accessories:
Lenovo Bluetooth Speakers - Lenovo 500 2.0 Bluetooth Speaker has up to 270-degree stereo which is a great way to get big audio from your device. It also has an embedded microphone that lets you use it as a speakerphone. Powered by Bluetooth 4.0, the Lenovo 500 2.0 Bluetooth Speaker also supports NFC connectivity. It delivers up to 4 hours of playback.
Lenovo 500 Earbud/In-ear Headphone - Lenovo 500 Earbud/In-Ear Headphone will deliver outstanding bass performance through its innovative drilled holes. It includes a noise-canceling microphone, and boasts an ergonomic cap design and knot-resistant cable.
TAGS: Press Release, Lenovo, Slimmest Laptop