This Smart Phone Can Replace Your Eye Doctor
A self-guided vision test that bounces a laser off your retina could make eye check-ups cheaper and easier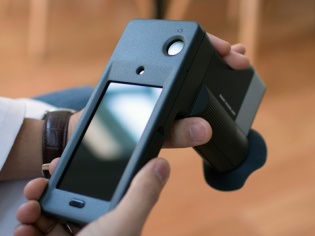 Buying a pair of glasses or contact lenses has become much easier in today's digital age with companies specializing in custom-building and delivering them to clients within the blink of an eyelid. However, the task of getting one's vision checked continues to be a pretty elaborate procedure.
Not any more! That is if one were to go by a new technology that's arrived on the scene under the rather egregious name of SVOne Enterprise. Pioneering the effort is a group of scientists and technologists based in New York called Smart Vision Labs. Their stated objective is to 'change the way the world sees'.
The company formally launched a smart-phone powered self-guided vision testing mechanism in select stores around New York yesterday, a report published by Engadget.com has said.
How does it work?
The beauty of the invention is that SVOne Enterprise works based on the exact same auto-refraction technique that was used in their earlier product that allowed doctors to perform eye tests at any location. In other words, the technique bounces a laser off the patient's retina and the outcome is measured.
The product also has the capability of transmitting the results of the eye test to a remote ophthalmologist who can approve the final prescription, which can then be downloaded by the patient at their convenience and taken to the optician who will provide the spectacles.
What does it cost?
The product resembles an iPhone with a special eyepiece standing on top of a tripod. The SVOne Enterprise can be used at optical stores to test the vision of walk-in customers or even regular ones.
Though many branded stores offer free eye tests, optometrists who do not have the qualification to prescribe vision correction conduct them. With the SVOne Enterprise, this problem could be resolved. Currently, Smart Vision Labs charges USD 40 per test, though with widespread usage, the costs could come down.
What prompted the idea?
Founded in 2013 by Yaopeng Zhou and Mar Albanese, the company launched the SVOne handheld auto-refractor in 2014 to help doctors understand aberrations. The company initially sought to make vision tests more portable and attainable, though later they decided on automating the entire process from testing till the prescription delivery. "The idea was to make it convenient and intuitive," Yaopeng Zhou was quoted as saying in an article published in Computerworld.com.