HashLearn Launches 'Atom', Affordable Tutoring For Exams | TechTree.com
HashLearn Launches 'Atom', Affordable Tutoring For Exams
'Atom' connects students instantly to IIT, BITS, AIIMS tutors at INR .30 payable through Airtel, Vodafone, Idea, Reliance, Aircel and Tata.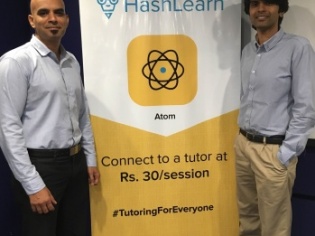 HashLearn, the on-demand mobile tutoring app that instantly connects students to tutors, announced the launch of 'Atom', India's most affordable, high-quality tutoring service. 'Atom' is priced at INR 30 for a 20 minute session.
HashLearn tutors are from the IITs, BITS, AIIMS, and leading institutions offering instant sessions in Physics, Chemistry, Math and Biology for all entrance exams like the JEE Main, CET, NEET as well as school exams. Tutors are available on-demand and round the clock thereby ensuring students never get stuck while learning.
'Atom' can be bought in packs of 1, 2, 4 and 5 sessions. Apart from regular payment options, another differentiator is the ability to buy the packs through one's mobile operator right within the app itself. The amount will be deducted from one's prepaid balance or added to the postpaid bill. Carrier billing is now available to 870 million subscribers of Airtel, Vodafone, Idea, Reliance, Aircel and Tata.
"Our vision is to connect every student to a high-quality tutor by making the service accessible and inclusive. 'Atom' is a first step in this direction. By offering an affordable price point and enabling payment through mobile carriers, we are making access to high-quality tutoring frictionless and truly democratic," says Jayadev Gopalakrishnan, CEO and Co-founder, HashLearn.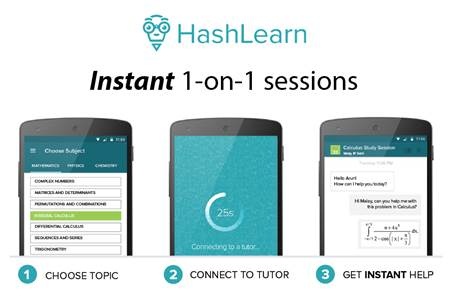 In India, only 20% of the tutoring market is organized. The vast majority cannot access high-quality tutoring owing to tuition costs or location constraints. Even for students from urban markets, they grapple with unique issues that conventional systems fail to address like lack of personalized attention and the lack of authentic help, right at the moment the student needs it.
HashLearn combines the power of the smartphone with a huge supply of tutors to enable anyone - whether from a city or from a small town/city - to access a high-quality tutor anytime, at an affordable price. The 20-minute session format is based on data from thousands of live sessions conducted on its platform over the last several months. Each session focuses on a specific concept or problem at the end of which students rate tutors.
Apart from 'Atom', HashLearn also offers an unlimited sessions plan under the 'Infinity' brand. While most of its paying subscribers so far have come from metros and urban markets, the launch of 'Atom' caters to a larger category of users looking for affordability and flexibility without compromising on quality.
The HashLearn Android app can be downloaded from the Google Play Store. All new users can take the first three sessions free of cost.
Founded by Jayadev Gopalakrishnan and technologist Gokul Janga, HashLearn is building a range of products and services that connect educators and students.HashLearn is an on-demand tutoring app that connects students to tutors from IITs/BITS & leading institutions, instantly, 24/7. HashLearn is backed by leading angels including the founders of Flipkart, Ola, People Group and the MD of Google India and SE Asia.
TAGS: Press Release, Education, Mobile App, Android Apps, Google Play Store