Google Launches Family Library on Play Store | TechTree.com
Google Launches Family Library on Play Store
Now, six family members can share books, movies, TV shows, apps and games across Android devices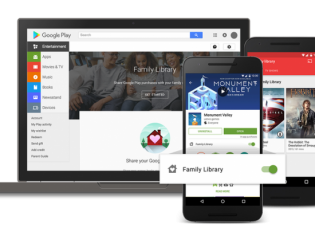 After weeks of speculation, Google finally announced the launch of Family Library, a smart way of sharing purchases on Google Play within a family of up to six members.
"When you buy an eligible app, game, movie, TV show, or book in the Play Store, you can now share it with your family – across devices – with no additional sign-up fee," Google announced in a blog post (read the full blog here). However, the company has not yet announced when the service will be available in India. Sundar Pichai Saar… Are you listening?
Family Library would start rolling out over the next few days and will become available in Australia, Brazil, Canada, France, Germany, Ireland, Italy, Japan, Mexico, New Zealand, the United Kingdom, and the United States.
A report published in TechCrunch.com (read it here) said that alongside the launch of Family Library, Google is also expanding access to its Google Play Music Family Plan that allows up to six family members to stream songs for USD 14.99 per month. Something that Apple may ponder on while rejigging its Music Store.
Explaining the process, the Google blog post says (watch a short clip) that users can access a new setting on the Play Store that allows them to configure one person as the "Family Manager" who then adds other members, besides adding payment information to directly bill for purchases.
Once the registration process is complete, all purchases by members would be shared with the rest of the family. Users would have the option of clicking on individual items and remove the sharing facility. This feature allows parents to set up sharing for TV shows or movies that advice parental guideline.
In addition, Family Library also ensures that parental controls configured on devices of other family members is fulfilled, thereby ensuring that adult content remains safe with the adults in the family. Similarly, parents would have to approve purchases requested by younger family members.
Google's Family Library scores over Apple's service in one aspect – it is available beyond Google's own platform, which means that one can be accessed on the web as well as on the iOS platform. TechCrunch.com quotes Eunice Kim, senior product lead at Google's Families initiatives to say that Play would be available across more places, and we think that's important for user choice and flexibility.
TAGS: Google, Family Library, Playstore, Sundar Pichai