Google Rolls Out 'WiFi Only' Mode For Google Maps | TechTree.com
Google Rolls Out 'WiFi Only' Mode For Google Maps
This feature replaces the offline areas in your Google Maps settings screen.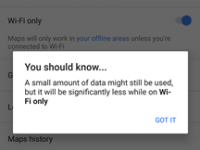 Google has recently started rolling out 'WiFi-only' mode for the popular Google Maps app, which according to FirstPost, disconnects the Maps app from the mobile network. Along with this, users are also receiving new notifications for any mass transit delays.
However, these new features are being rolled out only to a few lucky users and gradually, they would be available to everyone, reports Android Police, along with an image comparing settings of different smartphones with and without the luck of 'WiFi-only' feature.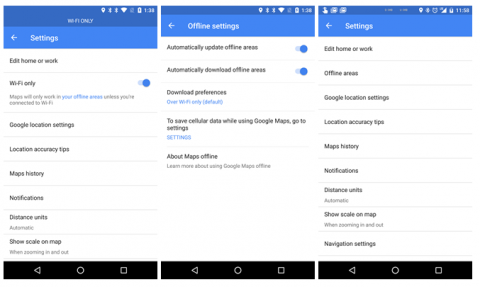 Image via Android Police
So how to get this 'WiFi-only' mode enabled on your device? Well, you can find the toggle for the mode in 'Settings' screen and it is known to appear in place of a feature previously known as 'offline areas'. Once the mode is toggled on, you would be getting a blue bar at the top of the screen informing you that Google Maps is in 'WiFi-only' mode.
However, Android Police has also shared a screenshot of Google Maps informing users about the significant usage of little amount of data even when it's on 'WiFi Only' mode.
Image via Android Police
Along with this, the new notifications feature which we mentioned earlier informs users of any immediate alerts on selected services, if it is available in your region. While this notification feature may be worthwhile for other countries, we still do not know how accurate can this feature actually work in India! Google has to definitely work hard on this part. Wishing you luck Google!
Also, it seems that, users should have Maps v9.32.1 installed on their device to have better chances of getting these new features... and the new version APK file is currently available on APK Mirror.
TAGS: Google Maps, WiFi Only Mode