Studio Pepperfry Now Available Through Virtual Reality | TechTree.com
Studio Pepperfry Now Available Through Virtual Reality
Pepperfry's puts experience centers on your computers through virtual reality stores.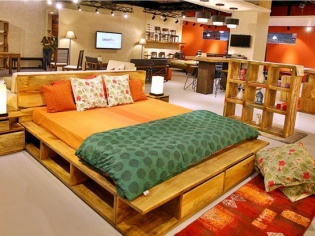 Buying furniture can be quiet the task, especially selecting the right options for your space. One other painful aspect remains visiting and picking the furniture which can be time consuming, and cumbersome as well. Perhaps that wont be the case anymore, as Pepperfry has introduced their latest innovation, by having virtual reality tours of their Experience Studio in Mumbai. What this means is, one can see the studio on their PCs, tablets, and mobiles, in virtually realistic detail, without having to be physically present in the studio in Mumbai.
By using this virtual reality feature, Pepperfry customers can explore Pepperfry Experience Centers in Santacruz and Kanjurmarg in Virtual Reality and 3D on their laptop, mobile, and tablets from the comfort of their home. This uniquely-immersive experience allows customers to experience a real shopping environment without ever going into a physical shop.
To take the virtual walkthrough of the Studio, customers can head to Google and type 'Studio Pepperfry' plus the location (for instance Santacruz, Mumbai) and start exploring Studio Pepperfry furniture by clicking on the 'See Inside' option on the right hand side of the search result page. They can also open the Studio locations on the Google Maps application by clicking on the tiny compass on the upper right corner and navigate around by just moving their phone. Additionally, by using a Virtual Reality (VR) headset like Google Cardboard range, or the HTC Vive, or an Oculus customers can also check out the Studio Pepperfry furniture in VR. When accessed from Pepperfry.com, the products in the Studio are highlighted with little black + circles and linked to the product page on the website. These can be added to the Pepperfry wish list or shopping cart for future purchase.
"Our Studios have been conceived as experience centers where we offer design inspirations to our customers. By providing an immersive panoramic view of these Studios virtually, we want customers to explore multiple home design options from anywhere, at any point in time," said Deepak Sharma, Product head, Pepperfry, while commenting on the launch.
Pepperfry has plans to change the home furniture buying experience for 20 million customers by 2020. Apart from the Mumbai studios, the company is looking to add 20 more such studios, which can be accessed by as many as possible, through virtual reality. So, buying and experiencing furniture will be as easy as shifting through common apps, but as vibrant as being there in the store itself.
Image via YourStory.com
TAGS: virtual reality, Online Store, Studio Pepperfry, E-Commerce