Google Scraps VR Headset Project For A Mixed AR/VR One Instead | TechTree.com
Google Scraps VR Headset Project For A Mixed AR/VR One Instead
Google seems to be putting its chips on a bigger number.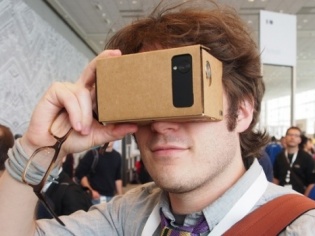 Virtual Reality is both the present and the future. It's here, as well as not quite yet. At the Google I/O in May, Google unveiled Daydream, a mobile VR platform. The company has long been working on a high-end VR project that would compete with Oculus Rift and HTC. A recent report from Recode cited sources within the company who said that Google had shut down this project.
Even more recently, however, Endgadget reported that Google is in fact working on a standalone project: a headset that will merge Augmented Reality and Virtual Reality.
Anonymous sources told Engadget that the company has been assigning people to work on a high-end headset for a while now. It will reportedly not require a computer or phone to use it. While it does have a screen, it will offer features more in line with AR systems than existing VR headsets. No release date has been yet put forward, but it's something the tech world will undoubtedly be keeping track of.
Members of the team have been told that Daydream does not fall within the company's long-term plan for virtual and augmented reality. It will however remain a major focus within Google, but it is actually a step towards something greater.
Daydream will only run on certain Android Nougat smartphones.
Image via PCMag
TAGS: Google Headset, Augmented Reality, virtual reality, AR/VR Headset