The Evolution Of Moto E | TechTree.com
The Evolution Of Moto E
Motorola announces the Moto E3.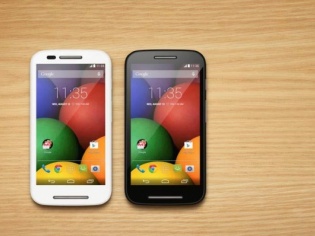 What do you do with a good smartphone? Why, make it better, of course! That's what Motorola intends to do, by significantly beefing up the popular Moto E and launching the improved version as the Moto E3.
The details about the Moto E3 have yet to be revealed, but here are the things that we do know.
To begin with, the E3 sports a five-inch HD 720p display, a significant upgrade from the 4.5-inch panel of its predecessor, a quad-core CPU and a 2,800 mAh battery, which the company says will last an entire day before needing to be plugged in.
Furthermore, reports say that the phone's rear-end camera has been bumped up to 8 MP, with a 5 MP front camera- an important point, since the Moto E had no front camera.
Finally, the phone has a microSD card slot for storage expansion, along with what Lenovo calls a "built-in smudge-resistant screen protector." So what's the difference between the 'screen protector' and Gorilla Glass? I guess we'll have to wait and see.
While it is as yet unknown how much RAM or storage the E3 packs, one can make an educated guess that it will come with at least 1 GB of RAM and 8 GB of storage. The phone runs on Android 6.0 Marshmallow.
The Moto E3 is the most recent in a series of new smartphones that Motorola has brought out since it introduced the Moto G and Moto Z families. However, it will face some stiff competition in the most price-sensitive section of the market. The Moto E3 will cost £99, which makes it significantly more expensive than other phones in the same category.
But all Motorola and Lenovo have to do is make sure that this latest offering has updated RAM and storage to match other phones in their bracket. The Moto E3 will go on sale in the UK in September, and an international release is expected to follow soon after.