NVIDIA Unveils GeForce GTX 1060
Powered by Pascal, delivers GTX 980 gaming performance at twice the energy efficiency.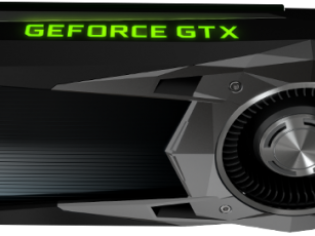 NVIDIA has added the NVIDIA GeForce GTX 1060 to its Pascal family of gaming GPUs, complementing the GTX 1080 and 1070, which have set records for speed and power efficiency following their launch two months ago.
Like the entire Pascal architecture GPU lineup, and with a starting price of only $249, the GTX 1060 has been crafted for speed and optimized for performance per watt. Manufactured on the leading-edge FinFET 16nm process, the GTX 1060 delivers GTX 980-level performance and twice the energy efficiency in VR. It consumes only 120 watts of power while driving the latest VR and DirectX 11/12 PC games at blistering speeds.
The GTX 1060 features 1,280 CUDA cores, 6GB of GDDR5 memory running at 8Gbps and a boost clock of 1.7GHz, which can be easily overclocked to 2GHz for further performance. Across the top gaming titles, GTX 1060 is on average 15 percent faster and over 75 percent more power efficient than the closest competitive product at stock speeds.
The GTX 1060 supports NVIDIA VRWorks, a software developer kit that allows developers to intertwine what users see, hear and touch with the physical behavior of the environment – convincing them that their virtual experience is real.Included with VRWorks is NVIDIA Simultaneous Multi-Projection technology, which allows the GTX 1060 to seamlessly project a single image simultaneously to both eyes, yielding a 3x VR graphics performance improvement over previous generation GPUs. This allows GTX 1060 users to play VR games with higher levels of detail, without sacrificing performance or quality, for a more realistic, immersive experience.
Simultaneous Multi-Projection is being integrated into the world's biggest game engines, Unreal Engine and Unity. More than 30 games are already in development, including Unreal Tournament, Poolnation VR, Everest VR, Obduction, Adr1ft and Raw Data.NVIDIA Ansel Integrated into 'Mirror's Edge: Catalyst' and 'Witcher 3'and will be made available this month.
The GTX 1060 also supports NVIDIA Ansel technology, a powerful game-capture tool that allows gamers to explore, capture and share the artistry of gaming in ways never before possible. With Ansel, users can compose the gameplay shots they want, pointing the camera in any direction, from any vantage point within a gaming world, and then capture 360-degree stereo photospheres for viewing with a VR headset or Google Cardboard.
Gamers will be able to experience Ansel for themselves with Mirror's Edge: Catalyst next week, and Witcher 3: Wild Hunt, later this month. Many more Ansel-enabled games are in development, including Epic Games' Fortnite, Paragon and Unreal Tournament; Cyan Worlds' Obduction; Thekla's The Witness; Boss Key Productions' Lawbreakers; Ubisoft's Tom Clancy's The Division; and the highly anticipated No Man's Sky from Hello Games.
NVIDIA VR Funhouse – the company's VR carnival game – will be available for free later this month from Valve's Steam digital distribution service. Developed on Epic Games' Unreal Engine 4, VR Funhouse will work on GTX 1080, 1070 and 1060 GPUs and HTC Vive VR headsets. It will also be open sourced to developers and artists so they can create their own VR Funhouse attractions.
The GeForce GTX 1060 Founder's Edition board – designed and built by NVIDIA – will be available in India starting July 19 at http://www.nvidia.in/graphics-cards/geforce/pascal/gtx-1060/ only. The GeForce GTX 1060 Founder's Edition is crafted with premium materials and components, including a faceted die-cast aluminum body machine finished for strength and rigidity and a thermal solution designed to run cool and quiet.