GMASA 2016 Wraps Up With A Bang | TechTree.com
GMASA 2016 Wraps Up With A Bang
... and the winners are: BMTC, NANU, Flock, Magzter, and a whole lot of others.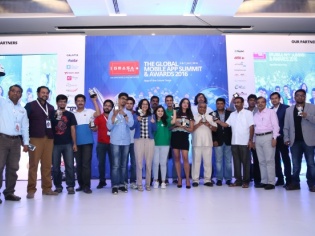 What's better for an app developer than receiving a Global Mobile App Summit (GMASA) award in front of a whole lot of tech fraternity? The excitement... eagerness... tension... oh boy!
The two-day event conducted by Apps World Magazine kicked off with brilliant panel discussions with panellists from top companies like Microsoft, Google, Apps Flyer, etc., and ended with the award-giving ceremony, witnessed by over 1,000 participants.
GMASA 2016 awarded app developers for their mobile applications in over 19 interesting categories ranging from entertainment, education, lifestyle, media and video, news, medical, music, games, social media apps, etc.
The 'People's Choice Award' was given to the BMTC app, while SHAREit won the award in the Tools and Utilities category, SportsKeeda in sports category, nanu in communication, Flock in Business, Magzter in News and Magazines, MakeMyTrip in Travel and Local, BYJU's in Education, Elivio in Productivity, and PayTunes in Entertainment.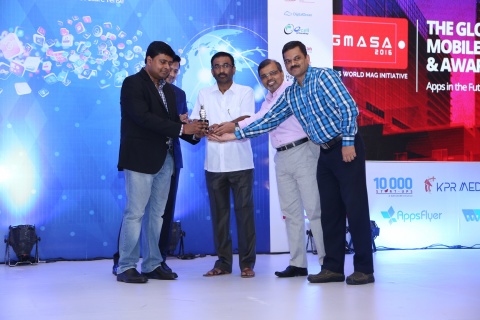 C R Venkatesh, Chairman of GMASA Handing Award to BMTC Officials
Other apps that received awards in the summit are:
LimeRoad - Shopping
HealthifyMe - Health & Fitness
Swap - Books & Reference
1mg - Medical
Airtel Wynk - Music
SPI Cinemas - Best Multiplex App
MissedPerson - Best Social Impact App
Payoneer - Best Payment Solution
GMASA 2016 also heard a startup stories from new apps like Sunami- the SMS organizer app, and Click2Clinic, while Corona Labs team demonstrated how developers can easily and quickly develop apps and games using their SDK.
South India actress Sanjana Galrani was also awarded with the 'Celebrity Social Media Icon 2016' award.
The summit in association with 'Make in India' and NASSCOM was inaugurated by Priyank Kharge, Minister for IT, Government of Karnataka in the presence of A P Muruganandam, National Coordinator of the 'Make In India' campaign and other dignitaries.
On the occasion, the minister announced a new initiate called 'Startup Open House' which will soon be started where the IT Minister and his team of associates will interact with enthusiasts and work together on coming up with newer and friendlier solutions for Startups.
Speaking on the success of the occasion, C R Venkatesh, Chairman of GMASA said "We are overwhelmed with the amazing response we have received. The event has seen participation of sponsors, participants and speakers from across the globe. With the assured support of the IT Minister and others we are keen on bringing out a few more editions of the event in the coming year."
TAGS: GMASA