Siri Takes Charge As macOS Sierra Beta Goes Public | TechTree.com
Siri Takes Charge As macOS Sierra Beta Goes Public
Of course, only those who signed up with Apple as Beta Testers will get a taste of this brand new operating system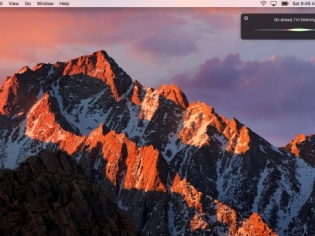 Barely a month after unveiling it at the WWDC, Apple has kept its promise of launching their latest operating system to the public. Those who signed up for beta testing would be able to check out macOS Sierra right here.
In case you've not signed up before, we suggest you do as this is the third year in succession that Apple has opened up an upcoming desktop OS for public testing. Among the new features that the company has promised, the one that is generating considerable interest is the arrival of Siri to the MacBook.
In addition to Siri, the latest update also introduces a picture-in-picture mode for iTunes and Safari, a universal clipboard for macOS and iOS, a more feature-rich messaging app and a redesigned iTunes, says an article published in Engadget.com (Read it here).
Of course, there are other features that make the Sierra unique, none more valuable than its ability to automatically back-up files that you consider most important on to your iCloud account.
Commentators like Dieter Bohn of TheVerge.com (Read the preview here) had overlooked the Siri engagement to focus on continuity features that allowed the Mac to work best with the iPhone. "With Sierra, it's turned a corner: using a Mac is going to be substantially better for iPhone users than Android users," he said.
Of course, there are others such as Michael diAgonia of ComputerWorld.com who believes that Sierra "is a Siri-ously big deal" as Apple can now stand beside Amazon, Google and Microsoft's virtual assistants.
Unlike the iPhone where Siri is continuously listening and wakes up to your voice, it needs to be fired up on the Mac from the dock or through a keyboard command (Command-Space by default). Once active, it can help create appointments and reminders, send messages, ask for weather forecasts, play a specific song, check sports scores etc. says diAgonia in his article (Read it here).
As for some of the things that one could try out on the macOS Sierra, here is what Jason Snell of MacWorld has come out with (Read the full story here).
• Obviously Siri is the first on the list. Watch out for the widget-on-the-go feature that it allows you to create.
• Moving desktop files on to the cloud just got easier. Just turn-on the iCloud sync and Sierra takes care of the rest. Of course, it may be a good idea to buy sufficient space before turning it on.
• Check out how the OS removes files from the local storage in case the user is running short of space.
• There is a new Storage Screen that merits a look. Tucked away under the 'About This Mac' menu, the screen helps you save on valuable storage space on your Mac
• Users of Photos for Mac are likely to dig two new tabs – Memories and People. The former puts together photo-based memoirs while the latter identifies different faces
• While at it, one could also check out Apple's algorithms that identifies generic terms like beach, mountain, lake etc. on your photographs without actually control over them
By the way! If you happen to have access to the beta version of the iWatch OS3, you could unlock your computer using the Apple Watch.
A word of caution: Do not install Sierra on a machine that you use for doing the daily office tasks. In case that's the only Mac you have, install it on a separate disk partition or an external drive. And, do not forget to back up your data.