At Last, Google Incorporates Cast Support Into Chrome | TechTree.com
At Last, Google Incorporates Cast Support Into Chrome
Google is slated to roll out the update in the near future to all its users.
PC World reported that Chrome will soon feature Cast Cast option in their menu options for users on Chrome 51. Reports also suggest the possible addition of viewing the contents of a Chrome tab in a Google Hangout.
The new feature will ensure that users no longer need to have the Cast extension installed to send open tabs from the browser to a television although users can still continue to use the extension as a quick access option.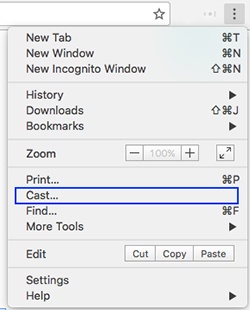 In order to receive the latest update users will need to be on Chrome 51. For Cast on Chrome, Mac users will have to click on the "hamburger" menu icon to check if they have received the latest update. In case the user has already received the update the Cast option will be seen between "Print" and "Find" in the dropdown menu.
Sharing a tab in Hangouts works the same way with the built-in Cast feature. Google has a rundown of how to Cast to a Hangout on its help pages.
After the update is complete users will no longer be able to manually adjust the resolution and bit-rate as the new built-in Cast feature will automatically adjust the settings.
TAGS: Google Chrome, Google, Google Chromecast