Notion Ink Launches Able 10 With Windows 10 And Intel's X5 CherryTrail
4GB RAM and large 64GB internal storage along with embedded 3G, hard-keyboard and full aluminium design is exclusively on Snapdeal.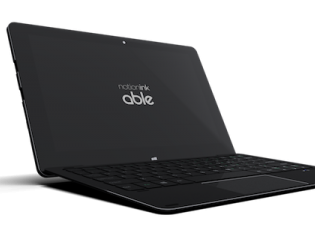 Notion Ink Design Labs, India's first tablet design and manufacturer's Cain series of tablets are one of the highest selling 2-in-1's in India. With large 2in1 customer base, Notion Ink has come out with Able 10 2in1 series based on the consumer feedback and asks (faster processor, 4GB RAM and more storage). This limited edition series available exclusively with Snapdeal.com
Speaking about this limited edition, Manish Giri, COO, Notion Ink said: "Cain has proven to be our most successful product till date. With customer feedback and asks, we have done a complete revision of original product and released Able 10. Initial feedback are very positive, and we hope people would love it."
He added, "Snapdeal has 30 million registered users and over 5 million products. As India's largest online marketplace, collaboration with them has given us immense scale and customer reach. It is the ideal platform to distribute Notion Ink's latest device. Combining Snapdeal's unparalleled reach across India with Windows 10 and Intel's cutting edge technology, the Cain series is a perfect value proposition for productivity and companion devices."
"As our customer base increases in leaps and bounds, Notion Ink is committed to quality Customer service & support. The Cain series now has a dedicated forum with an increasing user base, making information, troubleshooting and updates on the devices easy to access." said HK Venkateshwaran, Director Sales, Notion Ink
Notion Ink supplies devices to more than 150 corporates, especially in BFSI sector in India along with consumer market.
Tony Navin, Senior Vice President – Partnerships and Strategic Initiatives at Snapdeal said: "We are excited to take forward our relationship with Notion Ink, through the exclusive launch of Able 10. It is a significant addition to our rich assortment of close to 1000 products in the laptop category. The Cain series has been a very successful Windows product line on Snapdeal and enjoys positive customer satisfaction which is evident in the fact that even after 600 product ratings Cain has 4.3 star rating out of 5. We are confident that the Able 10 will also be very well received by our discerning customers."
Specifications and features of Notion Ink Able 10, powered by Microsoft Windows 10 and Intel
sporting a 10.1" IPS LCD display featuring 1280×800 pixels of resolution, the Cain Black Edition is powered by an Intel's latest CherryTrail 8300 processor (2M Cache, up to 1.86 GHz Burst Frequency, 1.33GHz Base Frequency). It includes 4GB DDR3L RAM and upgraded 64GB internal storage which can be expanded by further 128GB through a microSD card. It runs on the latest Windows 10 operating system and features onboard 3G.
The hard-keyboard system allows users to use it as a "lap" top. Able features hard keyboard build with Aluminium.
Able also includes a full USB 3.0 port, integrated magnetic lock for latching the keyboard and also optimised for Windows 10's continuum features. Able is the first 2-i1 device to be launched with CherryTrail 8300 + 4GB RAM + 64GB + 3G combination in India.
TAGS: Press Release, Budget Laptops, Microsoft, Intel