WTF! Huawei Uses DSLR Photo To Promote New Phone
Chinese company issues a flimsy statement and takes down the photo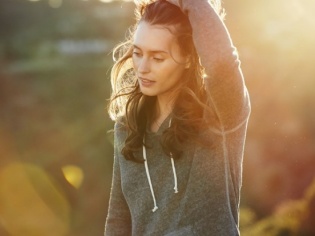 Advertisements often hide more than they reveal. And, this is precisely what Chinese phone maker Huawei did and got roasted by the ever-vigilant community on the social media.
Huawei shot an advertisement for its upcoming two-lens P9 handset with a 12-megapixel camera that seemed to suggest that the Leica lens could produce DSLR-quality images. The image posted along with this article came from the advertisement that was circulated by the company over Google Plus.
The social media post from Huawei that accompanied this image said: "We managed to catch a beautiful sunrise with Deliciously Ella. The #HuaweiP9's dual Leica cameras makes taking photos in low light conditions like this a pleasure. Reinvent smartphone photograph and share your sunrise pictures with us."
However, it did not take long for experts to figure out that the image was actually shot with a full-fledged DSLR boasting some superior quality lens. Since Google Plus uploads include the EXIF data for each image, it wasn't too tough to figure out the hardware used to capture the image.
The picture was shot on a Canon 5D MK.III with the EF70-200 f/2.8L IS II USM lens, says an article published on AppleInsider.com (Read it here). Once this data went viral, red-faced Huawei officials removed the picture and shared a statement instead.
"It has recently been highlighted that an image posted to our social channels was not shot on the Huawei P9. The photo, which was professionally taken while filming a Huawei P9 advert, was shared to inspire our community. We recognize though that we should have been clearer with the captions for this image. It was never our intention to mislead. We apologize for this and we have removed the image," is how Huawei has now responded, making it appear that it was all a routine mix-up and never with any malicious intend to misrepresent facts.
Of course, we leave it to the readers to figure out what they make of Huawei's campaign that misfired.
Readers may recall that this isn't the first time that marketing misadventures such as this have happened. Nokia had used some simulated images to display their PureView cameras, especially the Lumia 920. (Read the update from PetaPixel.com on this incident).
While the users in general had some fun at the expense of Huawei and the perception of Chinese brands dipped a millimeter more, the real victim might be Leica, the official partners of the Chinese brand. For, their digital cameras aren't all that bad. So, why did it have to be a picture shot by a Canon?
TAGS: Huawei P9, Nokia Lumia 920, DSLR Lens, Canon