Samsung Announces Upgraded 44 New TV Models
Company unveils SUHD range with new Quantum Dot technology, Smart TV and Joy Beat TV with revamped design and sound quality.
Samsung Electronics announced the launch of 44 new models of TVs in India, while introducing Quantum Dot Display technology, and several other innovations to help viewers have an enriched experience.
The 2016 line-up comprises the SUHD TV range in the premium segment, Smart TV range in the mid segment and Joy Beat range in the affordable segment. The entire range features eleven innovations across segments. Prices ranges from INR 28,000 to INR 2,400,000.

The new SUHD TVs with Quantum Dot Display offer Quantum Dot Colour and HDR 1000, which enables advances in colour reproduction, brightness, contrast and details. The state-of-the-art design with the world's first bezel-less curved design and a new, easy and integrated Smart TV experience delivers an unrivalled entertainment experience.

The Smart TV range with Smart Interface, Smart Content, Smart Convergence and Smart Play provides the most advanced Smart TV experience. Also, the new Joy Beat range with a unique design and an integrated sound station with built-in tweeters will help elevate TV viewing experience.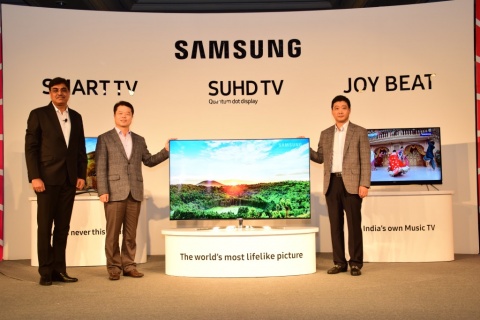 "Samsung aims to revolutionize the concept of home entertainment with beautifully designed TVs to meet the changing needs of our consumers, depending on their budget and lifestyle. While we are introducing the best picture quality ever with Quantum Dot technology in our new SUHD range, we are also introducing meaningful innovations in our Smart and Joy Beat ranges. With these offerings, we aim to further consolidate our position as the market leader across segments," Mr. Rajeev Bhutani, Vice President, Consumer Electronics, Samsung India, said.
Key features include :

Single Access with Customizable UI
The new interface represents a shift away from multiple content sources and devices, to one integrated content and services platform. Consumers will now be able to switch seamlessly between OTT content, live TV as well as other connected devices including video game consoles, Blu-ray player and set-top-boxes.

Also, with the new Smart Hub interface, apps and content tiles can be customized to individual preferences, making it faster to navigate from app to app. Users can easily rearrange apps the way they want them making it easier and faster to navigate between most used apps.

Auto Device Detection and One Remote
The new Samsung Smart TV eliminates the need to juggle multiple remote controls and it will automatically recognize the type of Home theatre system, game console or set top box connected to the TV. This allows users to control all of the detected external devices with the Smart Control Remote – with no setup required.

Convergence Across Platforms
With the new range of Smart TVs users can seamlessly share their favorite content instantly on the big screen. The upgraded Smart View app offers convergence across platforms and is available on Galaxy, Android and iOS devices as well as Window PCs, allowing users to share photos, video and music with family and friends. Also multiple users can simultaneously connect all their phones and share photos or videos making their experience more interactive and fun.

2 Way Bluetooth Audio Streaming
The new range of Smart TV gives you an option to pair your smartphone via Bluetooth and play your favorite songs saved on your phone from the TV even while the TV is on standby mode. Also users can wirelessly pair their TV with their Home Theatre and Bluetooth Speaker and carry the TV audio with them to any other part of the home.

Smart View App with Touch Pad Remote
The new Touchpad remote control is an innovation built into the Smart View app that gives users an intuitive experience with the ease of a touchpad. Now use your Smartphone as the remote and seamlessly scroll through your favourite content.

Virus Free TV with Extendable Memory
With the extendable memory feature, users can download a number of Games and Apps from the Samsung Apps Store and save them to an external storage device (USB/HDD) to later play them offline at their own convenience. The TV also comes with an in-built Smart Security feature, which protects the TV against any harmful virus.
TAGS: Press Release, Samsung Electronics, Smart TV