Pillo- World's First Home Healthcare Robot | TechTree.com
Pillo- World's First Home Healthcare Robot
From ordering pills on time, to monitoring health patterns, Pillo is the much awaited new home healthcare robot.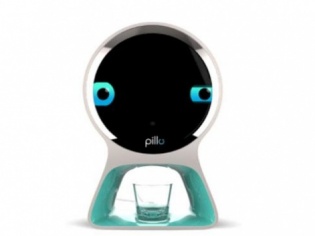 There are various robots in the market today, and the race for more robots than humans on earth is perhaps on the way to turning reality. One can easily recall the Origami robot, which is pill to be swallowed. Then there is the drinking robot, which can be a good accompaniment during holding one's drink during lonely times. Now, there is one which can minitor one's health, called 'Pillo'. This robot is being described by its creators as 'Your personal home health robot', which includes functions like movement tracking and also pill dispenser, according to pre-set schedules.
Pillo is a joint-creation by Emanuelle Musini, Aiden Feng, James Wyman, and has been built on the finances accumulated from a crowd-funding campaign from Indiegogo. The height of the robot is 13-inches, and has a capacity of 250 medium sized pills in its secure tank. From the techy standpoint, the Pillo can order pills from time to time, when the need for refills comes, and can even answer some health queries, should it know the answer, of course! For the busy bees, and the forgetful ones, Pillo is the assistant you always needed!
The robot still has some time before it becomes a reality. The makers have raised $75,000 thus far, and intend on launching Pillo for $599 each. But before one rushes to buy, it is to be noted that sales are supposed to start only by June 2017.
TAGS: Robots, Healthcare, Home Automation