Microsoft Unveils Windows 8 Developer Preview | TechTree.com
Microsoft Unveils Windows 8 Developer Preview
Features Metro UI without compromising multitasking capabilities.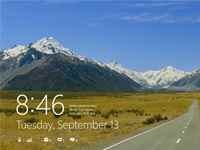 Microsoft showcased a preview of its next major OS Windows 8 at the BUILD conference. The preview detailed the developer tools essential to write applications for the Windows family. The software giant also made it clear that the latest OS will be backward compatible with Windows 7 applications. Steven Sinofsky, President of the Windows and Windows Live Division said, "We reimagined Windows. From the chipset to the user experience, Windows 8 brings a new range of capabilities without compromise".

This Windows iteration will be the first OS to focus on tablets. The main highlight of course is the Metro UI, previously seen in Windows Phone 7. Although the UI reportedly works well with a keyboard and mouse, Windows 8 also provides an option to switch back to the classic Windows 7 interface at any point. A single version of Windows will take care of both desktops and tablets of many shapes and sizes. For the first time, the OS will also support ARM CPUs. Moreover, it boasts of a boot up time of less than 10 seconds, which for a desktop OS is pretty impressive. It was also announced that the Windows Store, Microsoft's version of the Apple iTunes Store, will make its desktop debut with this build.



The Windows 8 lock screen.





The Metro UI and Start screen.





Internet Explorer 10 in action.

Microsoft was also kind enough to bless the nearly 5000 attendees with free Windows 8 Slate PCs. Many of them have uploaded hands-on videos; here's one from the folks at WinRumours.com: