Skyworth Launches World's Slimmest High-Tech TV In Tamil Nadu
Priced at INR 1,69,990, Skyworth plans to launch its TV across India.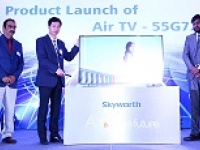 Skyworth India Electronics a wholly owned subsidiary of USD 8.98 billion worth Hong Kong-based company Skyworth, the World's Largest TV Manufacturer ranking top 5 TV Brand in the world - has unveiled the state-of-art AIR TV – 55G7200 series, the latest in its innovative product line and best in the entertainment merchandise segment at price of INR. 169990.
The New Air series, designed by Red dot award winning team with revolutionary Art technology, is 7.9 mm thin and lighter than ever sporting a 55-inch screen, drawing inspiration from the air, which means light, floating, flawless and refreshing. The 4K UHD (Ultra High Definition) feature gives extra resolution of 4K images, adds more detail, more depth and more color resolution to the picture, resulting in images that look incredibly lifelike and more like looking through a window than watching TV.
The 5 in 1 DIGITAL VIDEO BROADCASTING technology (DVB-C, DVB-T/T2, DVB-S/S2) powered with a PVR recording (Personal Video Recorder) option gives us the choice of recording the broadcasting videos.
DVB is a future technology and a contribution in line with the government's `Digitizing India' initiative as it will cater to the expectations of quality conscious customers of India and will be more than the value for money.
On the cutting-edge product of the company, Mr. Jackson Zhang, Managing Director, Skyworth India, said "We have put up an impressive display of our latest 4K UHD AIR TV -55G7200 with latest application, as a testimony of Skyworth's overwhelming Technology and innovative engineering prowess in the manufacturing and marketing of high-quality entertainment electronics and world class home appliances, efficient in any weather condition, "and added that "such products will have a great success in India, as Indian consumers are highly evolved and appreciative of high technology and quality."
"In the past 5 years in India Skyworth has established own assembly unit and introduced LCD, LED, DLED, ELED, 3D, Smart TV's and in the upcoming years Skyworth will introduce 8K, OLED, Smart plus TVs, and home appliance, AC, Washing machine, Refrigerator, which is testimony to Skyworth's commitment to advanced engineering and quality standards for product innovation, durability and technology relevance. This has enabled Skyworth brand to touch an annual production of 170, 00,000 units across the globe in 2015-16, elevating it to the most enviable position of being 5th largest brand in the world."
With this launch, Skyworth is expecting to bring the cutting-edge product to Indian consumer and with a target of 10% market share in the next 2 years.Subsequent to Hyderabad the product has been launched in Tamil Nadu. Plans are on for phased launches pan-India. Through a strong network of pan-Tamil Nadu, the company has rolled out strategies to promote the smart TV share to 30% from all category sales.
TAGS: LED TV, Smart TV, 4K video recording