Microsoft Wallet Now Supports Windows 10 Smartphones | TechTree.com
Microsoft Wallet Now Supports Windows 10 Smartphones
Tap to pay features comes to Windows insiders too.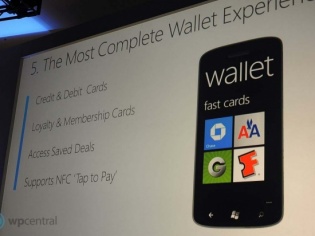 Today Microsoft introduced tap to pay with Microsoft Wallet to Windows Insiders with the help of their partnerships with MasterCard and Visa. Microsoft Wallet is a cloud-based payment technology that will make mobile payments simple and more secure for Windows 10 Mobile devices, starting in the U.S. with Lumia 950, 950 XL and 650, and usable in over a million retail locations.
Don't expect to utilize all the new features yet. For now, payments only work in the US and only for some cards (Bank of America's Visa card being one of them). And of course it has a lot of bugs right now.
However, in the future, it is expected that the app will gain support for cards issued by Chase, Fifth Third Bank, and US Bank, but there's no word on how exactly this will happen.
The whole wallet concept is very easy to use thankfully, so if you are among the lucky people who can tick all of the boxes above, you'll be able to make NFC payments at the stores supporting wireless transactions. The Wallet app can hold your coupons and loyalty cards too.
TAGS: Microsoft, Microsoft Wallet, Windows 10 Smartphones, Windows Smartphones, Microsoft Windows 10, Smart Pay, Mobile Wallets