Flipkart Shuts Ping And Image Search | TechTree.com
Flipkart Shuts Ping And Image Search
Ping was a feature that added social elements to Flipkart's platform.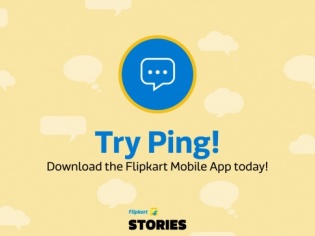 Flipkart is replacing a social shopping feature that allowed users to reach out to friends and family on its mobile app with one that now allows seller customer interaction.
The decision to shut down Ping, the social chat as well as another link that allowed customers to search through images, less than year after both features were launched is mainly due to low customer interest in both products said a spokesman of the company.
"After 25th June, 2016 users will not be able to chat with their friends or family on Ping but will be able to browse through their existing chats on the app," a company statement said. "Customers will continue to be able to share any messages or products through any social media platform of their choice.
Interestingly, Snapdeal also had launched a similar chat-based model to allow sellers to connect with buyers through 'Shopo'.
Flipkart said "This new feature will help users to chat with the sellers about their product related queries, prior to even buying the final product. The pilot which started with a limited set of sellers initially, will be expanded to more sellers in the due course of the project."
TAGS: Flipkart, Flipkart Ping, Image Search