New Super-Powered Xbox Console: Project Scorpio
"The most powerful console ever" is expected to be released during Christmas 2017.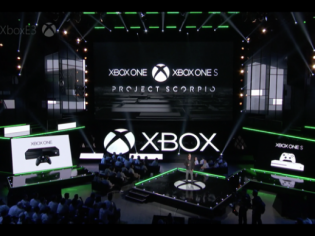 Microsoft and Oculus announced a partnership last year, but nothing much is seen out of it just yet. That's changing today, as Microsoft just announced a new version of the Xbox console, one that's optimized to push 4K visuals and high-quality VR out of the box.
Project Scorpio will launch during the holiday season in 2017, however all games and all accessories will work across the Xbox One, the Xbox One S and Project Scorpio.
Microsoft showed a video in which a number of developers showed the console's massive power -- it'll feature "true" 4K resolution, 6 teraflops of GPU power and will run at 60Hz. It'll of course be VR ready, and Bethesda noted it'll run Fallout 4 in VR, as announced last night. Given its link with Oculus, it seems highly likely that the Rift will be the headset of choice for Project Scorpio.
Phil Spencer pointed to such a development earlier this year, saying that he envisioned a future in which your game library stayed with you and in which consoles were upgraded faster in a more PC-like fashion. In his blog post, Spencer says "we view Project Scorpio as a new way of thinking about consoles and generations." Combined with cross-play and cross-buy between platforms, this will fulfill Microsoft's vision of "gaming without boundaries" as the future of the Xbox brand.
Obviously, there's no word on price yet, and we're guessing Project Scorpio won't be the console's launch name. But the big question is people who don't own an Xbox should buy a Xbox One S or wait until next year for Project Scorpio.
[Image Credits: Anand Tech]


TAGS: Microsoft, Xbox, Project Scorpio