Apple watchOS 3 Previewed At WWDC | TechTree.com
Apple watchOS 3 Previewed At WWDC
Key features of the watch include instant launch, enhanced navigation and the new Breathe app.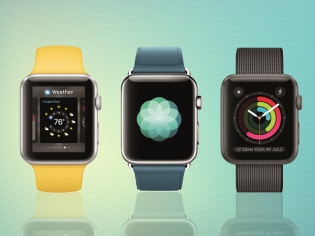 Tech giant Apple previewed its latest watchOS 3 at the Worldwide Developers Conference at San Francisco. The watchOS 3 features improved performance with the help of instant launch of apps, along with enhanced navigation like the new Dock. Apple has introduced all-new fitness and health capabilities for the watch. Slated to be launched this fall, the new software update introduces the Breathe app. The Breathe App is designed to motivate users to do deep breathing exercises for revitalizing their health . The Activity app allows users to share, compare and compete as well as enabling wheelchair users to close their Activity rings.
"Apple Watch is the ultimate companion for a healthy life and with watchOS 3, there's now even more to love," said Jeff Williams, Apple's chief operating officer. "Favorite apps launch instantly and are simple to access, and the breakthrough new fitness and health features like the Breathe app make it feel like a whole new watch."
The new Dock with recent apps can be accessed by pressing the side button. Right from the Dock or the watch face, users can launch their favorite native and third-party apps instantly and have the latest information in the app already updated and ready for viewing. Similar to iOS, users can swipe up from the watch face for the new and improved Control Center, continue to swipe down for Notification Center and swipe left or right to easily switch out a watch face. With improved health and fitness features users receive notifications about their friends' progress, including completed Activity rings, finished workouts and earned achievements.
Activity sharing is directly connected to the Messages app, so users can communicate, motivate and celebrate with friends and family with new Smart Replies specially customized for Activity and Workouts. In watchOS 3, the Activity app experience is now optimized for wheelchair users. Wheelchair pushes contribute to all-day calorie goals, the "time to stand" reminder is now "time to roll" and there are dedicated wheelchair-specific workouts.
The Breathe App encourages users to engage themselves in short deep breathing sessions. The visualization and haptic cues guide users through deep, full breaths in sessions lasting one to five minutes and on completion, they will receive a heart rate summary.
Apple watchOS 3 is also designed to add an element of fun to users who can now send receiving messages with stickers, handwriting, full-screen effects and invisible ink, which reveals the message only after a friend swipes over it. Users can opt for Smart Replies which appear along with the message notification. The new Scribble feature allows users to customize and personalise their messages. Users can 'scribble' words on the display and this is converted to text. SOS in watchOS 3 enables people in critical situations around the world to initiate a call with emergency services through their iPhone or while on Wi-Fi, and notify their emergency contact by simply pressing and holding the side button.
Apple Watch is even more personal with new watch faces including Minnie Mouse, Activity and the simple and elegant Numerals. Even more apps can launch straight from the watch face including Workout, Music or Messages. Users can also now add complications to the Photo, Motion or Timelapse watch faces. It's easier to customize watch faces and discover third-party apps with the new Faces Gallery in the Watch app on iPhone.
Apple has announced that watchOS 3 will be available this fall as a free update to Apple Watch. Apple Watch requires iPhone 5 or later running iOS 8.2 or later.
TAGS: Apple, Smartwatches, Apple Watch OS