Share Photos And Add Captions Without Opening Instagram App | TechTree.com
Share Photos And Add Captions Without Opening Instagram App
To add filters, you will have to open the full app!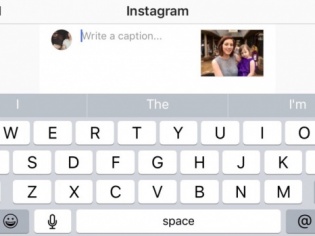 Instagram has recently rolled out an update for iOS users which allows to share photos and videos directly from the Photos app, without actually opening the Instagram app.
This recent update which weighs around 28.7 MB in size can now be downloaded from the App Store. It also brings along with it, a couple of bug fixes and improvements as usual.
However, the main feature of sharing photos and videos without actually opening the app has not been updated in the official changelog on the App Store. This feature was first noticed by 9to5Mac. No wonder they are 9to5Mac!
Also, according to 9to5Mac, this new update allows users to write captions for the photos or videos directly from Photos app. But, if you want to add in some filters and use other editing options, it will launch the Instagram app.
In order to enjoy this new feature, you will have to tap on the Share button in Photos app, swipe to the far right, and tap on 'More'. Turn Instagram on, arrange the list, and tap 'Done'.
This feature also works with other apps like Google Photos and Reddit app.
Also Read:
10 Year Old Hacks Instagram, Rewarded By Mark Zuckerberg
Instagram Introduces Layout App For Better Collages