Yahoo Launches Three Bots On Kik | TechTree.com
Yahoo Launches Three Bots On Kik
Yahoo brings its popular weather and news experiences to Kik's 300 million registered users.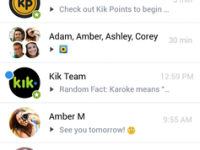 Kik Interactive, maker of chat network Kik, has announced that it has partnered with Yahoo to bring the company's highly popular weather and news experiences to Kik's Bot Shop. Yahoo is also exploring the Kik platform through a new experience called MonkeyPets, a playful emoji-loving companion. Through this partnership, Yahoo is one of the largest publishers to-date to launch bots on Kik.
"Yahoo has always specialized in creating experiences at the intersection of search, content and communications. Yahoo Weather, Yahoo News, and MonkeyPets on Kik leverage the unique features of the messaging platform to engage users where they live," said Jon Paris, senior product director of Yahoo.
The Yahoo bots will provide Kik users with means of discovering and exploring content in a social context. Yahoo News helps users discover, delve deeper, and share the stories that interest them most. Yahoo Weather goes beyond simply providing information such as temperature and weather condition, and taps into weather as a shared experience and conversation starter. In addition, Yahoo launched MonkeyPets, a virtual friend that lives off of emojis and shares selfies from its "travels."
"Bots are the next evolution of the consumer internet," said Josh Jacobs, president of Kik Services. "As consumers spend more of their time in chat apps and download fewer new apps overall, publishers will need to reach users where they live in order to stay relevant. Yahoo is an innovative partner, breaking new ground in the way content is delivered to teens."
Kik launched its Bot Shop in April 2016, and since then, has seen more than 6,000 bots created on its platform.
Read: Sinking Twitter Reaches Out To Yahoo