Zebronics Launches Juke Bar 2
After the success of Juke bar came Zebronics has launched its successor Juke Bar 2 priced affordably at INR 4949.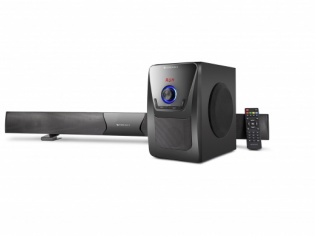 Zebronics, a brand known for its diversified technological innovations has announced the addition to its sound bar range with 'Zeb Juke Bar 2' which is a wireless sound bar priced at INR 4949
Zeb Juke Bar 2 is designed with a glossy front panel with an ultra slim profile The matt black finish and high gloss LED display adds to the appealing design . The sound bar comes with 7.62cms mid and high range driver and 12.7cms low range driver to deliver 40Watts RMS audio output.
The subwoofer can enhance bass sounds for rich deep tones. Its wide spatial sound feature brings the powerful cinema sound effect with the built in bass enhancer for rich deep tones, bringing powerful cinematic sound effect.
The Zeb Juke Bar 2 HAS wireless Bluetooth connectivity, USB and SD/MMC connectivity, which makes it compatible to variety of input mediums for your family. With inbuilt FM and support to mp3/WMA directly from USB devices, and a fully functional remote control for added convenience makes a viable choice for budget buyers.
With 1 year of warranty, the product is available with leading retail stores across India.
TAGS: Zebronics, wireless, Bluetooth Speakers