LG G5-'Modular' At A Price | TechTree.com
LG G5-'Modular' At A Price
We got our hands on the newest flagship smartphone, launched yesterday by the South Korean electronics giant, and realised there is a catch to the Modular offering.
LG has unveiled its latest addition to its premier 'G' series with the launch of G5 smartphone in India with a host of accessories including the LG Cam Plus, LG 360 CAM as well as a Virtual Reality headset.
First Impressions
The device, priced at INR 52,990, at its first glance manages to impress with its silver metallic housing, with a circular power button mounted at its rear panel, which also serves as a Finger print sensor.
On the top right, rests a 3.5 mm headphone jack, while the volume rocker and the speaker have been integrated on the left and bottom of the device panel.
The G5 on the display front offers a 5.3 inch quad HD IPS display, offering vivid colors and crystal clear resolution while playing videos or just browsing through images.
There are also 'two' camera lens (Yes, you heard it right!) mounted at the rear of the device which includes a primary 16MP camera along with an 8MP camera for a wide angle view, separated by an LED flash.
We managed to capture some random snaps in both its standard as well as wide angle mode, and had to admit that LG has blessed the G5 with one among the best camera optics in the flagship segment. The wide angle mode captured images with an exceptional difference and can certainly be called as one of the best USP of the device.
The device's much touted modular capability by LG however comes at a price as the three external modules including the Cam Plus, 360 Cam and the Virtual Reality headset come at an additional price tag of INR 6500, INR 19500 and INR 18900 respectively.
LG has also announced some other Interesting modules for the G5 including an external B&O speaker which integrates with the device via pulling out its battery slot at the bottom, and the Rolling Bot which comes a ball shaped home surveillance robot operated by a dedicated smartphone app. Both the accessories however will not be available in India for the time being.
LG also says that unlike its recently launched mid-range smartphones, the K7 and K10 LTE, G5 will not be assembled in India, being a flagship offering.
Verdict
While the G5 left us impressed in the first impressions round, with its astounding camera capabilities, a well build architecture and a vivid display. We wouldn't call the modular compatibility of the device as its biggest USP though (at least till we don't perform a full scale review of it) particularly with the significant additional costs which they bring along.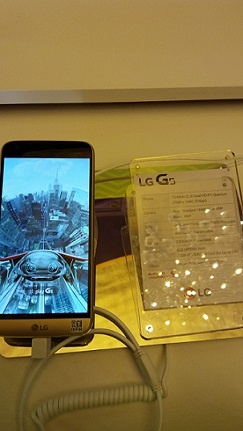 Tech Specs-:
* Processor- Qualcomm Snapdragon 820 Processor
* Memory: 4GB LPDDR4 RAM/ 32GB UFS ROM/ microSD (up to 2TB)
* Display: 5.3-inch Quad HD IPS Quantum Display (2560 x 1440 / 554ppi)
* Camera: Rear: Standard 16MP, Wide 8MP/ Front: 8MP
* Battery: 2,800mAh (removable)
* OS: Android 6.0 Marshmallow
* Size: 149.4 x 73.9 x 7.7mm
* Weight: 159g
* Network: LTE/ 3G/ 2G
* Connectivity: Wi-Fi 802.11 a, b, g, n, ac/ USB Type-C)/ NFC/ Bluetooth 4.2
* Colors: Silver/ Titan/ Gold/ Pink
TAGS: LG G5, LG, Modular Smartphone, Android 6.0 Marshmallow, 4GB RAM, Qualcomm Snapdragon 820