Virtual Reality Relaxation Goes Mainstream
Guided Meditation VR debuts in the Oculus Store, making it the world's first consumer app to utilize one's heart rate in virtual reality.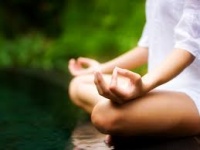 Virtual Reality has taken the world by storm. Who would ever think virtual could be real and real could be virtual?! Not limiting the possibilities of VR just to gaming, Guided Meditation which is slated to release today as a free download in the Oculus Store for the Samsung Gear VR is the world's first consumer app to utilize one's heart rate in virtual reality.
Guided Meditation VR transports users to four different environments- an autumnal forest, a Japanese village, a tropical island beach, and a snow peak in the arctic which allows users to rest in immersive, exotic locations. With no specific add-ons required, the built-in elements of Samsung Gear VR and any Samsung phone (2015 - 2016) can be used to gain greater control of your body through natural measure.
Guided Meditation VR's usage ranges from escaping the everyday, to pain management, pre or postoperative anxiety, therapy, senior care, among others, making its lasting effects limitless. Meditation content is fully customizable, drawing from Zen, Compassion, or Relaxation series crafted by leading experts. Within each location, users can find four different meditation spaces, making for a total of 16 unique relaxation areas, with additional free environment and mediation content to be released monthly.
Guided Meditation was the winner of the Most Innovative Game Award at Michigan State's Meaningful Play Conference, and Guided Meditation VR's demos have been spotlighted by The Boston Globe, TechCrunch, Polygon, Road to VR and other global publications as the world's leading relaxation experience. The application has been downloaded over 50,000 times for the Oculus Rift developer kit.
Guided Meditation VR will be available from 2nd June for free in the Oculus Store on the Gear VR.
TAGS: Oculus VR, virtual reality, Samsung Gear VR