ASUS Presents Zenvolution At Computex 2016 | TechTree.com
ASUS Presents Zenvolution At Computex 2016
Unveils Zenbo, the first ASUS robot, along with a stunning line‑up of third-generation mobile products.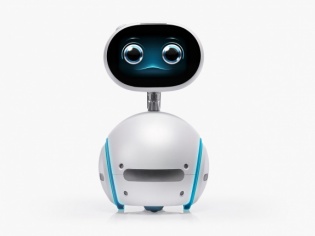 During the much awaited Zenvolution press event at Computex 2016, ASUS Chairman Jonney Shih unveiled Zenbo, the first ASUS robot, along with a stunning portfolio of Zenfone smartphones as we had earlier reported.
The new smartphones include the all-new ZenFone 3 family, featuring Zenfone 3, ZenFone 3 Deluxe, and ZenFone 3 Ultra featuring a 6.8 inch Full HD display that excels at entertainment.
Also, during the event, ASUS announced ZenBook 3, an ultra-sleek and lightweight notebook with a premium aluminum design, along with ASUS Transformer 3 and ASUS Transformer 3 Pro, the world's most versatile PCs that feature an unrivalled combination of mobility, convenience, and expandability.
While revealing ASUS Zenbo, Chairman Shih said, "For decades, humans have dreamed of owning such a companion: one that is smart, dear to our hearts, and always at our disposal. Our ambition is to enable robotic computing for every household."
Joining Mr. Shih on stage, Intel's Corporate Vice President and General Manager of the Client Computing Group, Navin Shenoy said, "For nearly thirty years, Intel and ASUS have been collaborating to bring some of the most innovative PCs and devices to market. We are excited to continue that collaboration on the new ZenBook and Transformer 3 family powered by Intel Core processors, and we look forward to working closely with ASUS on expanding beyond traditional clients into new, emerging markets like robotics."
ASUS Zenbo, the ZenFone 3 Series, the ASUS Transformer 3 Series, and a line-up of other all-new ASUS products are on display at the ASUS showroom at the Nangang Exhibition Hall at Taipei World Trade Center.
TAGS: Asus, Zenvolution, Computex 2016