New Android App To Give Earthquake Alerts | TechTree.com
New Android App To Give Earthquake Alerts
The app aims to create a global seismic network that can help to communicate timely alerts to people which will drastically reduce the effects of the disaster.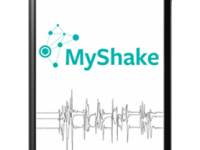 MyShake, the latest android app developed by researchers at University of California, Berkeley, is designed to recognise earthquake tremors using the sensors in smartphone and runs in the background with minimal power consumption. This enables the phone's onboard accelerometers to record local seismic activity at any given point of time.
Earthquake early warning can effectively curb the extent of damage of the calamity allowing people time to flee the quake prone area.Seismic activity data is collected through accelerometers and processes the data and, if it fits the vibrational profile of a quake, relays it and the phone's GPS coordinates to the Berkeley Seismological Laboratory in California for analysis. As per the research article published, the data received is analysed to determine the location, origin and the magnitude of triggers recorded. This is helps in creating an effective EEW (earthquake early warning) system.
MyShake has registered 170,000 downloads and the app is soon expected to be available on App Store as well.
"We think MyShake can make earthquake early warning faster and more accurate in areas that have a traditional seismic network, such as Japan, and can provide life-saving early warning in countries that have no seismic network," said Richard Allen, the leader of the app project, director of the Berkeley Seismological Laboratory.
"In my opinion, this is cutting-edge research that will transform seismology," said UC Berkeley graduate student Qingkai Kong, who developed the algorithm at the heart of the app.
"The stations we have for traditional seismology are not that dense, especially in some regions around the world, but using smartphones with low-cost sensors will give us a really good, dense network in the future," said Kong.
TAGS: Mobile App, Android Apps, MyShake App, Mobile Alerts