Micromax Unveils Its Quad Core Smartphone, Bolt Supreme | TechTree.com
Micromax Unveils Its Quad Core Smartphone, Bolt Supreme
Company launches its affordable range of smartphones Bolt Supreme and Bolt Supreme 2 at INR 2,749 and INR 2,999 respectively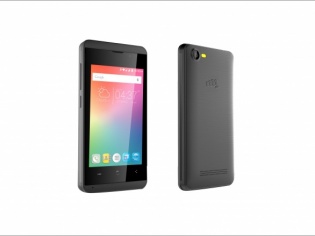 Micromax Informatics Ltd, India's leading handset player and the 10th largest player in the world, today announced the launch of its two new super-affordable performance smartphones - Bolt Supreme and Bolt Supreme 2, at INR 2749 and INR 2999. The launch of the two smartphones will encourage the 70 million feature phone users to switch to the new smartphones. Built with a combination of style and performance, both the smartphones provide Quad core chipsets, good battery, Android L and 3G connectivity to give first time smartphone users an excellent experience and reliability.
Commenting on the launch, Shubhajit Sen, Chief Marketing Officer, Micromax Informatics said "We are extremely proud to shatter another performance-price barrier by launching the Micromax Bolt Supreme range – Quad core chipset based Smartphones below INR 3000. We believe that the first time smartphone buyers will fuel the growth of the category. It is imperative we give them a fantastic first time experience – in performance, connectivity, screen quality and battery life. The Micromax Bolt Supreme Smartphones combine all these benefits in one and at super-affordable price points."
He further adds, "As market leaders in the mass entry level segment, Micromax needs to revolutionize the experience for the first time smartphone users and start their journey into a connected online world. This is crucial step in achieving our joint dream of a Digital India. Our widespread distribution coverage will make Micromax Bolt Supreme phones available in the smallest towns in India. In addition, our trusted image and extensive, country-wide service network will build credibility and trustworthiness for the first time smartphone consumer"
The Bolt Supreme is powered by 1.2GHz Quad Core Processor, 512 MB RAM, coupled with 4GB storage, which is expandable up to 32 GB. The key features include a 3.5 inch display and 1200mAh battery and a 2MP camera. The smartphone is available in two colors champagne and white, grey and black, and is priced at INR 2,749.
The Bolt Supreme 2 is backed by a 1.2 GHz Quad-Core Processor, 512 GB RAM and in-built storage of 4GB with an expandable storage of up to 32GB to provide the new age consumers with power packed performance. The smartphone specifications include a 3.9-inch display and a 2MP AF rear camera. Running on the latest Android Lollipop 5.1 the smartphone has a 1400 mAh battery. Priced affordably at INR 2,999 the smartphone is available in Grey color.
Both the Bolt Supreme and Bolt Supreme 2 are available for sale across all retail stores in the country.
TAGS: Micromax Smartphones, Micromax Bolt Supreme, Micromax Bolt Supreme 2