Apple CEO Launches Updated Narendra Modi iPhone App
Both Narendra Modi and Tim Cook took up the micro-blogging site Twitter to thank each other for a great meeting.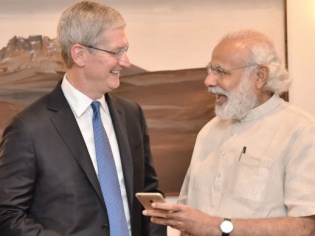 Apple CEO Tim Cook's first trip to India seems to be a very exciting one with a lots of major announcements and interesting launches. However, one thing that caught our eyes the most was Cook's meeting with Prime Minister Narendra Modi.
Well, it didn't just turn out to be a regular meeting. Tim Cook actually launched an updated version of the Narendra Modi app for iPhone.
The popular micro-blogging site Twitter also witnessed both Modi and Cook thanking each other via Tweets. While the Prime Minister thanked Tim for launching the app, an instant reply by Apple CEO thanking Modi for a great meeting, brightened the conversation.
Speaking about the Apple CEO's visit to India, it has definitely been a busy one for him with meetings with Bollywood stars and telecom operators. Cook also inaugurated the Maps development centre in Hyderabad and also spoke to NDTV about how India had influenced former Apple CEO and co-founder Steve Jobs.
Tim Cook has also confirmed that India was one of Apple's top priorities for the next decade, and that the company is looking for long term investments in the country, according to a recent report by NDTV.
[Image Credit: Indian Express]
TAGS: Narendra Modi, Tim Cook, Apple