New Location Sharing App "IS" Launched
Makers claim users can share their real time locations with friends without draining their battery.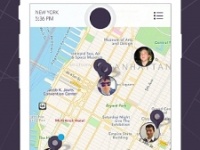 With location-based technology gaining momentum, InSite Applications has unveiled IS, the first app to seamlessly answer the two most asked questions to friends, "Where are you?" and "What are you doing?" With the press of a button, users are "live" and can share their real time location with a closed group of friends. Privacy is core to IS, and users can fully control when and who they are sharing with.
In testing and development for two years, IS found high engagement in its beta: Across all active users, people are sharing their live locations more than 18 hours a day. IS has also experienced significant advancements with location accuracy and battery efficiency. With a proprietary formula for updating a user's location, IS has broken new ground in ensuring location data is always accurate up to the second, even at high speeds. For people who shared their live location over a 24-hour period, IS only used five percent of their battery on average.
"We believe the next opportunity in consumer Internet is about context and proactivity. Location is key to enable that context, and the IS model allows us to surface it proactively with very little friction. Location is a derivative of how people spend their time, which is ultimately the strongest signal of what they care about. Knowing that empowers us to
build the best experience for our users," said Diesel Peltz, Founder and CEO, IS.Serial entrepreneur Mark French is a co-founder of IS. French is among the first to build a geo-located network as the founder of NBC Everywhere.
"When I first met Diesel, I knew he had the right product vision that would differentiate IS. I am really excited to see how IS changes the way people meet-up and keep-up with each other," said French.
Once users tap the "Live" button they start sharing their real time location and have full control over when they decide to share as well as which friends they choose to share with. Users can drop a "Pin" on the map to tell friends where they are now. Friends can add photos, videos and comments at the Pin as well as see which friends are currently there.
Users can also drop future Pins to let their friends know where they are headed later as well as receive notifications as friends arrive. Pins are ephemeral; once everyone leaves that place, the Pin disappears from the map.
In addition to dropping Pins, friends can chat as they move around. These conversations are usually sparked by receiving a notification that a friend is nearby or noticing a friend is at an interesting or unusual place.
With offices in NYC and San Francisco, IS consists of iOS, Android, design, and product teams.
"Since my time at Facebook, I have always believed that location has been the unsolved piece of social. In working closely with Diesel and team, I have been impressed by their unrelenting vision and capability to redefine location sharing and how it effects everyday communication," said Marlette, advisor.
IS is privately funded. Investors include SV Angel, Ron Conway and Nelson Peltz."Location sharing as a behavior has been challenging to this point. Diesel and Mark have true insight into what's needed as well as the right strategy and product to solve it," said Topher Conway, investor. "I'm excited to see how IS reshapes the way people interact."
IS is now available on the App Store and Google Play for downloads.
TAGS: Location Sharing Apps, Geo-tagging, Mobile App, Play Store, App Store