Google Says 'Allo' To Smart Messaging, Video Calling | TechTree.com
Google Says 'Allo' To Smart Messaging, Video Calling
What's more there is artificial intelligence that's built into the service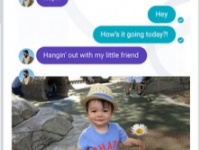 If Microsoft calls it Skype, Facebook terms it Messenger and Whatsapp and Apple defines it simply as Messages, Google has gone natty by calling it 'Allo'. Yes! That's what the company's new messaging app has been christened.
What's more, Google is picking up from where the rest are at the moment – messaging apps that are morphing into some sort of a mega communication tool which does much more than help individuals or groups share content.
Unveiled last night at the company's annual Google I/O conference, the new app is slated for release this summer. The Google Blog says that the Allo will run on both Android as well as Apple phones and would also have some smart features that are based on artificial intelligence (AI).
The blog (read it here) speaks of the 'Smart Reply' feature that allows the app to anticipate your responses and reply without you actually doing so. The feature is similar to the 'Inbox' on the mail client that allows users to respond to messages without typing a single word.
"Smart Reply learns over time and will show you suggestions that are in your style. For example, it will learn whether you're more of a 'haha' vs. 'lol' kind of person. The more you use Allo, the more 'you' the suggestions will become," it says.
The feature will also work with photos, providing intelligent suggestions related for the content of the photo. So, if your friend sends you a photo of tacos, for example, you may see Smart Reply suggestions like 'yummy' or 'I love tacos'.
By the initial looks of it, Google will be using its entire suite of products associated with AI. The blog goes on to say that Google Assistant would be part of the product, allowing users to seek and get their daily agendas, details of flight and hotel or pictures from a previous trip.
"And, since it understands natural language patterns, you can just chat like yourself and it will understand what you're saying. For example, "Is my flight delayed?" will return information about your flight status, the blog says.
If the 'Allo' is aimed at the digital chatterboxes, Google Duo is pitched as a simple, fast one-to-one video calling app that works on both Android and iOS, irrespective of the quality of Internet connectivity "in New York or New Delhi", says the blog.
A smart feature that the Duo would offer allows users to preview the caller before picking it up. Rather unimaginatively titled 'Knock Knock', the feature "invites you into the moment, making calls feel spontaneous and fun and once the user decides to pick up the call, it transitions into the call.
The calls are in HD video quality of up to 720 pixels with matching audio output. It has been optimized to work in poor Internet speeds whereby the quality of the output varies accordingly. The calls also get seamlessly transitioned between cellular and Wi-Fi so that there is no loss of call quality. Take a look at this video of how Duo calls happen (click here)
TAGS: Google