PM Narendra Modi Crosses 20 Million Followers On Twitter | TechTree.com
PM Narendra Modi Crosses 20 Million Followers On Twitter
With Modi Government's second anniversary round the corner, this Twitter achievement is a remarkable milestone.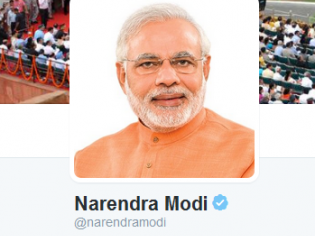 Indian Prime Minister Narendra Modi is definitely an influential politician with million of followers on his official Twitter account. Well, recently, Modi has crossed the count of a whopping 20 million followers on Twitter and is right next to US President Barack Obama with 75 million followers becoming the second most followed politician in the world.
Adding more on to the numerical data, Narendra Modi's Twitter account has added three million followers since the start of the current year. Considering the period ever since he was sworn into office on May 26, 2014, he has added 16 million followers.
With the recent feat of having 20 million followers of Twitter, it looks like Narendra Modi has moved ahead of Shah Rukh Khan, who has 19.5 million followers. It won't be surprising if he soon surpasses Bollywood superstar Amitabh Bachchan who has around 20.9 million followers and become the most followed Indian on Twitter.
Known as the country's most interactive Prime Minister, PM Modi's digital presence has paved a revolution for 'Digital Governance' and 'Digital Diplomacy' in India. Government ministers, police officials, elections commissions and other government agencies are following suit and taking aggressively to Twitter to connect in real-time with their respective Indian audiences.
His presence on Twitter pretty much reflect his connections to the common man on the street.
The Prime Minister has also recently taken up a number of initiatives on Twitter like #TransformingIndia, #MannKiBaat, #StandUpIndia, and #SwachhBharat. Benefits like Aadhar and DBT (Direct Benefit Transfer) are some examples of how the Prime Minister has used Twitter to connect with citizens for the country's development and progress. Twitter also continues to witness PM Modi's efforts to revamp bilateral cooperations with other nations, including the likes of US, UK, Maldives and Saudi Arabia.
TAGS: Twitter, Narendra Modi