HP Launches World's First Production-Ready 3D Printing System
HP takes major step to reinvent prototyping and manufacturing industry with first commercial 3D printers based on open platform.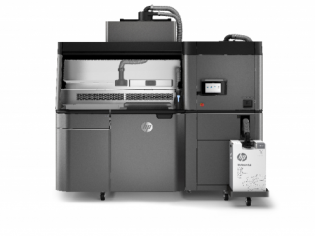 HP has unveiled the world's first production-ready commercial 3D printing system, at RAPID, the larget 3D additive manufacturing conference, on May 17.
The new unveil marks the next major step in the company's journey to bring disruptive manufacturing solutions to the market.
The HP Jet Fusion 3D Printing Solution revolutionizes design, prototyping and manufacturing, and for the first time, delivers superior quality physical parts up to 10 times faster and at half the cost of current 3D print systems.
By printing functional parts at the individual voxel level (a voxel is the 3D equivalent of a 2D pixel in traditional printing), HP offers customers an unprecedented ability to transform part properties and deliver mass customization.
"Our 3D printing platform is unique in its ability to address over 340 million voxels per second, versus one point at a time, giving our prototyping and manufacturing partners radically faster build speeds, functional parts and breakthrough economics," said Stephen Nigro, President of HP's 3D printing business. "The new HP Jet Fusion 3D Printing Solution delivers a combination of speed, quality, and cost never seen in the industry. Businesses and manufacturers can completely rethink how they design and deliver solutions to their customers."
TAGS: HP, 3D Printer