Thrillophilia Launches 'Thrillo Supplier' App
The Thrillophilia's booking management app for tours and activities is available for over 3500 suppliers in 15 countries.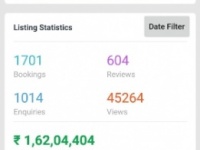 The 'Thrillo Supplier' app 1.0 is conceived to make the vendors journey with Thrillophilia effortless and hassle free. The suppliers can view the bookings for their products, get alerts, notifications, contact customers, get insights on market demand and also manage reviews for the same.
Another, significant provision of the app is that it scans the booking details and abolishes the risk of fraudulent bookings, enabling a strong partnership between the suppliers and Thrillophilia.
This is a step forward for Thrillophilia to get the activities inventory available in real time for booking. Suppliers would be notified about their bookings, market demand or when a review is uploaded by the customers, they would have all possible information is real time. This helps them to keep a track of all their activities and bookings.
The app also provides detailed statistical data to the suppliers from the time they have been associated with Thrillophilia assisting the suppliers to keep a track of their growth and market trends. The 'Thrillo Supplier' app aims at eliminating the communication gaps between the vendor and the customer; a provision lets the vendor address its
customer directly through calls or messages. The feedback helps in improvisation as well as motivation, therefore the 'Thrillo Suppliers' App exhibits ratings and customer reviews for every product.
"Our team at Thrillophilia is constantly innovating to improvise and enhance the customer and supplier experience. We, as a company, are deeply invested in their experience. Easier said than done, we have built great technology on backend to verify right suppliers, and finally a lot of automation so that the best suppliers do great business using our platform. Thrillophilia today distributes its activities globally with many partner companies so it's critical for us to maintain the high quality. We regularly do audits on our suppliers and also have strong feedback mechanism in place. With that we also have best practices and training programs for suppliers, so that customers can have a seamless experience.
The 'Thrillo Supplier' App is launched to exterminate all the communication barriers and provide a flawless experience to all our suppliers. The in next few versions you will see lot of automations and artificial intelligence to make the experience even better. We at Thrillophilia are changing the world experiences the world and you will see lot of
exciting products coming out in 2016, exciting times ahead " says Co- Founder of Thrillophilia, Abhishek Daga.
Thrillophilia today is Asia's biggest tours and activities platform to discover and book activities. One can discover, compare and book from over 10000 tours and activities. There are more than a 3500 suppliers, allied with Thrillophilia.
TAGS: undefined