Beware Of Fake Olympic Games Tickets Sold By Scammers | TechTree.com
Beware Of Fake Olympic Games Tickets Sold By Scammers
As a safety measure, do not purchase anything from suspicious web banners. Also, keep your security software up to date.
Back in early 2015, Karspersky Lab experts had found the first spam email mentioning the Olympic Games in Rio de Janeiro being held this year. While most of the emails were found to be in English, the team was also able to find a few Portuguese mails because of the location of 2016 Olympic Games.
Most of these spam mails were found to be revolving around winning in the ticket lottery organized by the International Olympic Committee and the Brazilian government. According to Kaspersky Lab research, international fraudster gangs might also be involved in these spam mails announcing face lottery wins.
Through such mails, spammers are trying their best to convince victims that their email address has been chosen randomly from a large list. And, to receive the prize, according to such spam mails, victims must reply to the email and provide personal information.
While spam mails are posing great threat to users, Kaspersky Lab team expects more danger when Ticketing services appear for the Rio de Janeiro 2016 Olympic Games. Thus, the team is constantly detecting and blocking counterfeit domains with «rio» and «rio2016» in the title.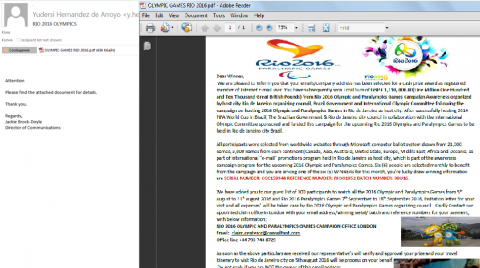 Sample fraudulent mail regarding Olympic Games to be held in Rio de Janeiro in 2016. You can understand more on such spam mails at SecureList.com
"According to our research, the creation of fake sites usually involves well organized, fraudulent, international gangs. They split tasks, so that each small group is responsible for a separate part of the work. For example, one group creates websites, the other registers domains, another collects and sells the victims' personal information, etc. In order to avoid falling victim to these fraudsters, sports fans should be savvy when they buy tickets. They should only trust authorized resellers, no matter how attractive the low prices from other resources can be" - warns Andrey Kostin, Senior Web-Content Analyst at Kaspersky Lab.
Kaspersky Lab has also recommended Internet users not to purchase anything online - from tickets to Olympic souvenirs, especially on the online stores advertised through suspicious web banners. Along with this, it is also recommended by Kaspersky to have a separate bank account, and a card with a little amount of money in it meant for online payments.
Also, it is advisable to regularly upgrade your security software and ensure that your laptop or PC has anti-phishing and anti-spam tools, thereby keep your personal details safe and your money secure.
TAGS: Spam Mails, Olympic Games 2016, Kaspersky