Lilith Games Launches "Heroes Tactics: War and Strategy"
Heroes Tactics: War and Strategy is a turn-based strategy game designed for smartphones and is targeted at global audiences.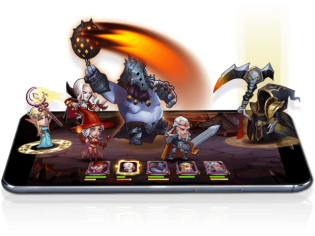 Heroes Tactics is among the first turn-based strategy game specifically designed for mobile platforms. Despite the presence of numerous turn based games available, it has been observed that the software is too large for a phone, the graphics are blurry and is not conducive to mobile control. While in Heroes Tactics, players can play it on a cellphone easily. The innovative gameplay involves battles between heroes unfolding on hexagonal grids. The game includes various modes, including Story Mode ("Warrior" and "Legend" stages), "Hero" stage with equal level between players and enemies, Arena (player ranking battles), Sky Arena (Player vs Players randomly) and Guild Battles which pits bosses together.
There are 43 heroes available, each with their own characteristics and special skills. Players can use these specialties to their advantage: use vampires to steal health from your opponents or evade your enemy's attacks on a flying horse. Heroes must be selected carefully in order to craft a competitive team. Heroes Tactics incorporates the best of elements of many different game styles (including turn-based strategy, role-playing, real-time strategy, puzzle or adventure), and tests the player's tactical thinking.
Heroes Tactics was featured in both the App Store and Google Play as the Best New Game.Lilith Games has plans to publish Heroes Tactics globally. With its intricate strategy, the game will attract players who love complex tactical battles. The upcoming update to Heroes Tactics will introduce real-time PVP battles: face-off against opponents around the globe in real-time. Lilith believes Heroes Tactics has the potential to become the premier mobile e-sports game. In the future they plan to hold a world championship e-sports competition to take Heroes Tactics to the next level.
Lilith Games had developed and published "DAOTA CHUANQI" in 2014, which was the first Mobile Action Card Game in China and went on to gain widespread popularity in many Asian markets. Last year, the international version known of Soul Hunters was released, also gaining a significant following. It has accumulated over 80 million users and has reached the top spot on the App Store rankings in several countries. Now Lilith is devoted into game publishing.
TAGS: games, Mobile App, Google Play Store, iOS App Store