WhatsApp Video Calling: Here's What You Need To Know | TechTree.com
WhatsApp Video Calling: Here's What You Need To Know
The feature is still in beta and is not yet officially rolled out to users.
After making huge noise in the market, WhatsApp's video-calling feature is now available on its app. Well, don't go about searching for the feature yet though, as the feature is currently available only for a very few number of users who have registered for Google Play's beta testing program.
However, the latest beta version (v2.16.80) of WhatsApp has gone live on APK Mirror recently, and you can download the APK file by clicking here and install it on your smartphone.
At the time of this writing, the APK Mirror link shows that the beta app has already been downloaded 45,993 times and the file size is around 28.28 MB. While the minimum OS requirement is Android 2.1 Eclair, the target is clearly going to be the latest Android 6.0 Marshmallow.
Speaking on the video calling feature, it can definitely bring more popularity to WhatsApp. But, we must see how swiftly the app actually handles the video call, especially in India where network connection is still not up to the mark.
With WhatsApp claiming for end-to-end encryption of your messages and calls, video-calling feature is further expected to become more popular among users.
While we at TechTree tried to install the APK file, we were definitely successful in it, albeit we had no luck in making a video call. WhatsApp clearly showed us an error message - Couldn't place call. Video call in unavailable at this time.
Here's the screenshot of what we got.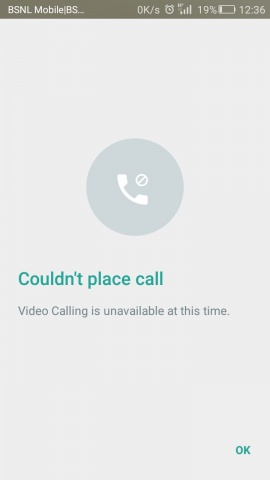 With this unsuccessful attempt of making a video call on WhatsApp, we can clearly foresee a great feature that's on the way, though still not available for us to use. How would this feature work? Will the video call be more crisp than what Facebook Messenger, SnapChat, and other competitors are currently providing? May be, we will have to wait for a couple of days more to know the answer!
TAGS: WhatsApp, Video Calling