Docket Tech Launches #DreamStartups | TechTree.com
Docket Tech Launches #DreamStartups
A first-of-its-kind event aims to help startups register their company for free.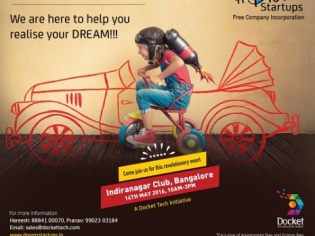 Docket, 'the document expert', is taking a bold initiative of organizing a never-before event in the startup. #DreamStartups is a startup event through which Docket will help entrepreneurs to incorporate their new companies and firms at zero professional fees excluding the government charges. This event will be held on 14th May 2016 at Indiranagar Club, Bangalore from 10 AM to 3 PM. Entrepreneurs need to register on http://www.dreamstartups.in for the entry to the event.
Talking about the reason behind this initiative, founder Gireesh Challa said, "Whenever someone wants to register their own company, they have to go to an advocate or a CA, then to various government offices. There is only minimal awareness available with new startup entrepreneurs. Due to lack of standardized structure, people have different views and each professional out there quotes different prices. There is a lot of documentation involved in the process of incorporating a company. With #DreamStartups, we are taking a never-before-seen initiative of incorporating startups without charging any professional fees, which incidentally we bear. Moreover, we would educate entrepreneurs about the documentation process involved. We take this initiative to entrepreneurs, trying to do our bit in enabling them to live their dreams and hopes and ensuring that we ease out this rather cumbersome process of registrations and licenses."
"Working on the event, Docket is looking forward to incorporate at least 100 startups.A special team of experts will be on call exclusively for this event. The team's work is completely target-driven and it has intensified in the past few days, spreading awareness about the event. We have also partnered with SBI Incube, Inc42, TheMentorpreneurs,WickedRide, Haagen-Dazs and Toni&Guy. Our event partners, cherishing their own journey through their startup days, took interest in our event and gladly accepted to come on board," said Aditya Pratap, Co-Founder at Docket.
Docket Tech alias Notary Mama is India's first online platform for documentation and registrations for individuals and businesses. It has served an ever-growing number of services since its founding in 2014. Docket has quickly become India's premier platform for documentations like agreements, affidavits, bonds and deeds. Its core competence is to facilitate e-stamp, franking, notary and attestation services.
TAGS: Startup, #DreamStartups