Yubl Takes On Global Social Media and Messaging Apps | TechTree.com
Yubl Takes On Global Social Media and Messaging Apps
The new social media app has witnessed a meteoric rise in popularity among youngsters.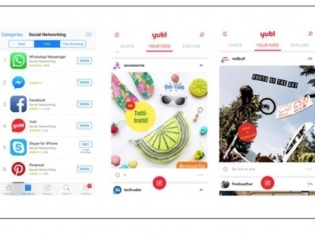 Created in the UK and launched just 10 weeks ago, Yubl is already taking on the established social media and messaging apps and has hit number 4 in the App Store Social Networking charts.
Yubl has struck a chord with youngsters and leading brands such Red Bull UK, Starbucks, ASOS.com, Accessorize and ODEON Cinemas are now active on the app. The unique feature of Yubl relates to its unique Buttons which give users a new interaction experience.
Yubl users are empowered to express themselves, seek opinions, or spark debate, through the creation and sharing of 'Yubls'. Every Yubl starts with a blank 'canvas' on which users can layer text, stickers, video, photos and Yubl 'Buttons', all of which can be moved, rotated and scaled. Yubls activate across synchronous screens, so that everyone in the chat shares the same view at the same time and can see interactions as they happen, bringing users closer to the people and things they love.
Yubl Buttons is designed specifically for users to interact with each other in real time. The "Vote Button" allows users to gather opinions and make instant decisions as a group like where to go, what time or place to meet. The "Count Button" allows users to respond in a more personal way.The "Weblink Button" helps users to add weblinks to their Yubl.The "Whereabouts Button" allows users to keep their friends and family updated about their current location by sharing their location. Pinpoint Button: Shows everyone in the chat where to meet up. The app has a set of unique and fun stickers many of which are animated and make sounds when someone taps them.
Yubl is made up of three distinct 'spaces': The "Chat Space" is for users to exchange their "Yubls" to their friends and in group chats. Users can broadcast and browse their "Yubls" using "Your Feed Space". Users can only view posts by the people and brands that they choose to follow. The "Explore Space" allows users to search content, brands and celebrities and follow their "Yubls".
TAGS: Yubl, App Store, Google Play Store, Social Networking Apps