Samsung's Countdown Site Reveals A Boring Teaser Video
Meh.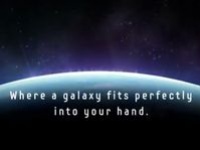 The countdown put up by Samsung is now over, but sadly it hasn't revealed anything, except for a teaser video. Although fans must have been disappointed, the Korean giant has tried to cheer them up by making fun of Apple followers instead.


The video does show various galaxies, but none of them are phones. It then throws a quick insult at Apple fans by calling them "sheeps". Lets hope that Samsung really has something groundbreaking to offer after making this bold remark.

 Interestingly, the video features a line that reads "Where a galaxy fits perfectly in your hand". I hope that's the case with the next GALAXY phone since the GALAXY Note doesn't actually fit in my hand.




Coming to the topic of the GALAXY S III, we still have no official details regarding it. However, if you happen to enjoy speculations, feel free to check out the recent video that claims to feature Samsung's upcoming flagship device.
TAGS: Mobile Phones, Android, GALAXY, ck