Wish Your Mother With Decorated Messages On Facebook | TechTree.com
Wish Your Mother With Decorated Messages On Facebook
If you stay far and missing your mother, these colorful flowers and stickers are best way to express love, this Mother's Day!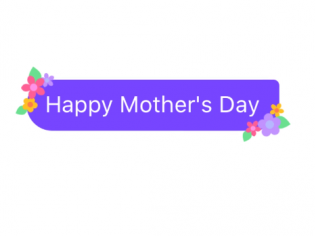 Mother's day is round the corner, and it's going to be a difficult time for those living far away from their beloved mothers.
Having a mother next to you is probably a force that you wouldn't want to miss. However, life takes you on a ride many times and you end up either studying in a college far away from your hometown or working abroad. Yet, you will definitely gift something to your mom, especially with many e-commerce websites throwing away offers on the occasion.
Interestingly, Facebook has been testing out a couple of reactions and stickers so that you can actually express your love for your mother in a more vivid way. The eye-catcher is that the social media giant allows you to send floral decorated greetings to your mom via Messenger on this lovely day.
Here's the official video post by Facebook showing this feature.
With this feature, Facebook clearly expresses its love and intention to celebrate Mother's Day with all women across the globe. The feature is available on as many countries as possible, according to the post.
To send these flowers and lovely greetings to your mom, all you have to do is find a new purple flower icon in Messenger and tap on it. Then, the messages get decorated with colorful flowers.
You can also send in these creative stickers to your mom thanking her for everything she has done to you right from giving you the proper direction, and making it possible for you to study more, and make a better living.
Kudos Facebook! This is what makes you special!
Happy Mother's Day!
TAGS: Mother's Day, Facebook, Facebook Messenger