Lumi Launches Mobile News Curation App | TechTree.com
Lumi Launches Mobile News Curation App
App uses Facebook, Twitter data, location, and in-app behaviour to curate news specific to the interests of the user.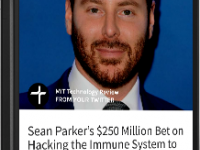 Founders of Last.fm, a music recommendation service has launched Lumi, a news curation app designed by the stories you like reading. Unlike most curation apps whose customization is built around ticking check boxes and following other users, Lumi is powered entirely through machine-learning. Using your Facebook and Twitter data, location, and in-app behaviour, Lumi intelligently learns the type of content you most want to read.
In the world of news discovery, smartphone and tablet users are overwhelmed by choice and to ensure easy access Lumi presents one article at a time, allowing users to focus on the stories, not the selection. Users can swipe right for the news stories liked and can swipe left for the stories that does not interest the user.
"Lumi is a mobile news curation app that presents stories based on the decisions you've already made," said Felix Miller, Lumi co-founder. "Traditional news apps present stories based on what appeals most to their existing readers, not what appeals to your actual interests. Lumi breaks this cycle and presents stories tailored to the user. By looking at your Facebook and Twitter data, Lumi will find stories that interest you from the moment you first open the app. As you read and swipe right on the articles you like, Lumi refines the experience even more. Lumi learns from your every interaction, so all you have to do is read."
As a result of Lumi's user-powered ethos, the app is able to take a uniquely global approach, resulting in story curation that isn't restricted by languages or borders and puts an emphasis on locally-sourced content powered by a user's existing behavior. Lumi's machine-learning means there's no need for editorial teams to source and localize content; by its very nature, Lumi is designed to find the right content for everyone, everywhere.
"Truly personalized content means providing everything a user would want to read without any restrictions," said Martin Stiksel, Lumi co-founder. "Giving our readers the content they want, no matter where in the world they are, isn't just great for users; it's great for publishers too. From the most popular newspapers to the most unique blogs, Lumi will connect the right articles with the right readers."
Founded by Last.fm co-founders Felix Miller and Martin Stiksel in 2012, Lumi is a content recommendation system initially tested through a browser-based prototype. In 2015, Lumi built these learnings into a mobile news curation app that has attracted more than 100,000 users in beta. Lumi is now publicly available to all users across both Android and iOS.
TAGS: Mobile App, Play Store, App Store