Acer Launches Aspire S3 Ultrabook
A MacBook Air clone for those who want to get work done.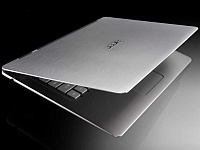 Acer has launched the Aspire S3 Ultrabook in India. Starting at Rs 50,000, the slim notebook incorporates the Sandy Bridge Intel Core i3, i5, and i7 processors in a 13.3" form factor. Storage options include a 240 GB SSD or a choice between a 320 and 500 GB HDD with embedded SSD for those wanting to strike a balance between space and performance.

Bearing an uncanny resemblance to the MacBook Air, the S3 similarly features a healthy dose of magnesium \ aluminium alloy in the chassis, weighing in at just 1.4 kg. The Ultrabook sports a thin 13.3" HD LED display that incorporates the bezel as the screen frame. The chassis uses a vent-free bottom, while Acer has undertaken further thermal optimisations to ensure that heat-dissipating components are placed away from the touchpad and palm-rest areas.
The notebook features two sleep modes of varying intensities that are claimed to wake up in 1.5 and 6 seconds. According to Acer, these energy-saving modes can make the battery last for up to 50 days. Other optimisations include Acer Green Instant On and Acer Instant Connect. The former has been advertised as endowing the Ultrabook with speedy startup and energy efficiency, while the latter reportedly provides access to the internet within 2.5 seconds of waking up from the sleep mode. The Aspire S3 is backed by a warranty of one year.