Google Translate: 10 Years Since It All Started | TechTree.com
Google Translate: 10 Years Since It All Started
The journey of Google Translate has been so colorful and vivid... here's a rough view!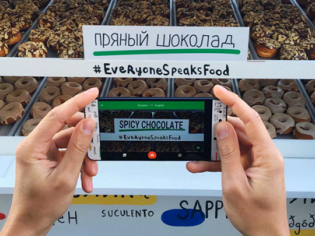 Google is celebrating its tenth year in the field of translations. Yup, you guessed it right. Google Translate completes 10 years allowing users to translate from different languages. Also, during these 10 years, the company has been introducing one or the other update to make this service more reliable.
When Google first launched the service, the company supported just two languages and today, the list of supported languages has risen to whopping 103.
On this occasion, Barak Turovsky, Product Lead of Google Translate has posted a blog post on the official Google Translate blog, noting down what Google Translate is today, after 10 years in its bucket of experience.
Google Translate has been known to help people make connections, especially when you have visited a country where English is not often spoken or written. Another fact we can understand by going through the original post is that, more than 500 million people currently use Google Translate, and the most commonly used languages are English, Spanish, Arabic, Russian, Portuguese, and Indonesian.
Barak has also mentioned in the post that Google Translate works on more than 100 billion words a day. Now, that's huge!
Most of us have been wondering many times - how would Google predict the trending terms. There are number of ways to do that, and Google Translate is one of them. How? Google looks into what people are translating and thus, trends can be easily understood.
On this note, the original blog post notes: Last year we saw a big spike in translations for the word "selfie," and this past week, translations for "purple rain" spiked by more than 25,000 percent.
And, congratulate yourself if you are an avid Google Translate user. Google claims that more than 3.5 million people have made 90 million contributions through Translate Community. So, if you find an error in the translation next time, it would be good if you can review, validate, and recommend translations. That's how Google Translate is learning.
Speaking about the journey of Google Translate, the company introduced bilingual conversation, back in 2011, which allowed people to converse with each-other even though they knew no one common language. In 2014, Google also rolled out the Voice Search feature in Hindi and seven other Indian languages. However, visual translation from English to Hindi was included only in July, 2015.
Lastly, Google Translate also has offline support on both Android and iOS. So, do not panic if a country you are visiting has no proper Internet connection. But, be well prepared in advance, as you will have to download offline language packages when you are in your home country!
TAGS: Google, Google Translate, Google India