Amkette Launches Streaming Device and Media PLayer EvoTV2
EvoTV2 is priced at INR 6,999 and is exclusively available on Snapdeal at INR 6,499 for a period of one month.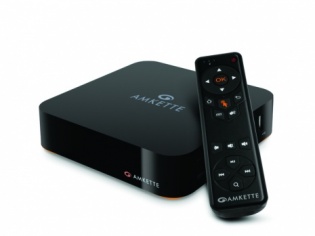 Amkette launches EvoTV2 streaming device and EvoTV2 that provides users with access to 200 apps and allows users to stream thousands of movies, songs, and games. The device offers almost all the global and domestic shows that are currently not available in the country. The devices enables users to organize their media library using preloaded KODI App.
EvoTV2 aims to empower the users with easy access to free and premium global content in India's complex, evolving, digital-entertainment ecosystem. Announcing the launch, Rajiv Bapna, Director, Amkette said, "Digital entertainment is coming of age in India with multiple Over-The-Top (OTT) services announcing the availability of wide variety of local and global content. Many of these services use different technology platforms, making it difficult for consumers to access content using one device. EvoTV2 has been designed to allow easy consumption of a wide variety of content from anywhere on cloud or any user device like Smartphone, Laptop or PC. The Amkette EvoTV2 provides a house full of entertainment at a very affordable cost and with an extremely easy user interface."
The device is powered by Arm Cortex Quad Core CPU processor and an Arm Mali 450 graphic processor. The external media support features 4 USB ports that can be used to plug up to 2TB external hard drive. The device comes with 8GB internal storage along with dual mode air remote.
EvoTV2 features international shows like Game of Thrones, House of Cards and The Walking Dead.
TAGS: VOD, OTT, Online Streaming