Will USB-C Soon Replace 3.5 mm Headphone Jack? | TechTree.com
Will USB-C Soon Replace 3.5 mm Headphone Jack?
With the US based chipmaker, Intel is urging handset and PC manufacturers to integrate USB-C port in place of the standard 3.5 mm audio jack, users may soon fetch digital audio quality with better sound processing.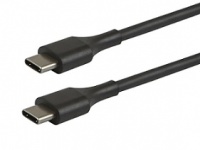 The new port will reportedly also feature upgrades and better noise cancellation techniques. The transition journey from a headphone jack to a USB-C port may come as a long process as majority of the handsets (almost 99 per cent) across the globe are still integrated with a 3.5 mm audio port.
Intel believes that while the replacement may not happen soon, owing to high costs initially, which may also impact the cost of budget Smartphones and entry level line up of PCs.
The company is banking on economies of scale and cost drops for the technology to pick up.
Another interesting benefit of the USB-C port is that it can help Smartphone vendors slash the thickness of the devices, which will help developing slimmer Smartphones and ultra-thin notebooks, considering the prevailing race to come out with the slimmest of devices by manufacturers.
Without a doubt, the future of USB-C ports appears firm, considering the technological advances it packs in, but how soon the handset manufacturers as well as headphone vendors align with this concept is something only time can tell.
There is also a strong possibility of emergence of headphones, specifically tailored for the flagship devices with the new port for an improved audio experience.
TAGS: USB Type-C, Intel, Smartphones, PCs, Ultra-thin notebooks, Audio Jack