Swiggy Bolsters Its LIVE Order Tracking Facility For Customers | TechTree.com
Swiggy Bolsters Its LIVE Order Tracking Facility For Customers
You can now track your order live using the order tracking feature on the website and app.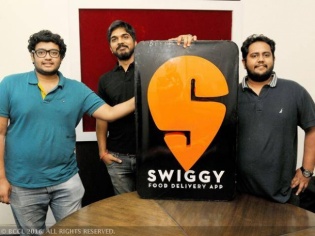 To cater to 70 per cent of its customers who use the live order tracking feature on the website and app, Swiggy, India's largest online food ordering and delivery platform, has revamped its live tracking facility to add features that will significantly enhance customer experience and bring value to their food ordering and delivery process.
The live tracking feature has been implemented across the entire fleet of delivery to increase efficiency while allowing customers to track their orders in real time – from placement of order to delivery. More prevalent among radio cab and delivery facilitators, Swiggy is one of the few food delivery companies to provide minute by minute tracking of orders in real time, leading to an 18 per cent decrease in the number of calls to the company's customer care centre.
Swiggy has also provided customers a chat feature on its order tracking page for any enquiries and feedback. Swiggy users can use the chat interface to also track or cancel their orders, creating a seamless, simplified and convenient food ordering experience. The number masking feature brings in the safety element for users. Additional developments on the platform include features like 'What's New' and 'Trending Now' and 'Add on variants'.
Speaking on the development, Nandan Reddy, Co-founder, Swiggy said. "With our minute by minute live tracking feature, customers are kept informed of the status of their food order, eliminating the need for repeated follow ups and calls to trace the order or provide directions to delivery personnel. Such is the convenience and value enhancement of this feature, that we have observed lesser dependency on our customer care executives. The chat support interface helps in instant engagement with customers who provide valuable feedback on the food delivery process and benefit from the live support. This update to our coveted live tracking feature is another step towards offering our customers an enhanced food ordering experience."
[Image Credit: BCCL]