Swipe To Launch Smartphone With 5.5 Inch Display On Flipkart | TechTree.com
Swipe To Launch Smartphone With 5.5 Inch Display On Flipkart
The smartphone comes with a 3 GB RAM and 3,000 mAh battery, and will be available at just Rs 7,999.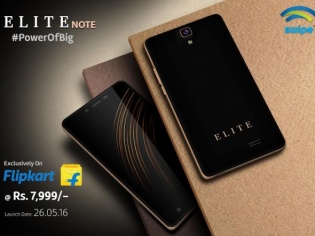 Home grown consumer tech company Swipe Technologies is all set to launch its upcoming smartphone on April 26. The smartphone will be available with a price tag of Rs 7,999 and will be available exclusively on Flipkart.
Dubbed as the Elite Note, it is expected to offer its users a bigger, bolder and better experience and the company promises to provide a genuinely enjoyable and powerful experience, without making a dent on your pockets.
Elite Note boasts of superior design, premium build quality and powerful hardware at a disruptive price point.
Launching the new smartphone, Mr. Shripal Gandhi, Founder & CEO of Swipe Technologies said "We've carefully listened to our users' feedback and incorporated suggestions in crafting Elite Note, not only in terms of hardware but software too. We chose premium materials, highest performing components, out of the box software features to make this an unparalleled & holistic user experience. With its compelling features, attractive styling and pricing, we are all-set to make a mark and disrupt India's mobile phone market. The #PowerOfBig is for user to see and feel with Elite Note."
The Elite Note is powered by high speed Quadcore processor and 3GB RAM that offers a fluid & lightening quick user experience. A 3000 mAh marathon battery powers the Elite Note for more than a full day of use. Today's premium devices deliver immersive experiences through high speed connectivity. Keeping that in mind, we have ensured that the Elite Note supports 4G LTE and advanced multimedia without compromising performance or battery life.
The all-new Elite Note comes with a vibrant 5.5" HD IPS display with Vi-Di technology that brings a brighter, bolder, bigger world right in front of your eyes. Elite Note has premium appeal as it has the finest sandstone back cover that ensures a comfortable touch in hands. A visually-stunning, incredibly tough Dragon trail Glass – a lightweight, flexible and scratch-resistant glass with extraordinary strength – comes as a protective cover glass for the very stylish Elite Note, which not only enhances the phone's style quotient, but also offers exceptional resistance to scratches and bumps of everyday use.
Elite Note's Freedom OS, based on Android 5.0 Lollipop, gives it truly amazing power. Based on the enhanced version of Android 5.0 OS, it enjoys top-level speed and unwavering app execution. Due to a unique feature of changing android functions according to user's behavior and style, FreedomOS offers an extremely personalized experience.
Speaking about the camera section, the smartphone comes with a 13 MP rear camera with f1/3.2 aperture with flash that can capture every moment easily in exceeding clarity. Its 5MP front camera comes with a wide 88 degree 4P lens which allows for more light to enter the camera to help the user take a clear Selfie even in less than ideal lighting conditions.
TAGS: Swipe, Elite Note